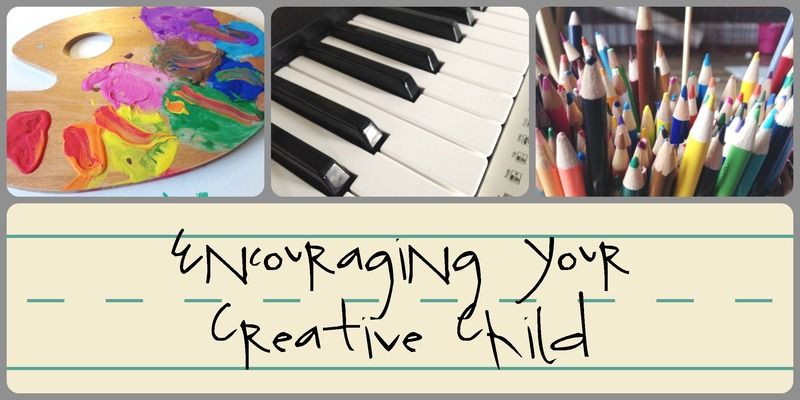 My husband and I have a lovely five-year old daughter; here on the blog, I refer to her as Miss A. She exudes creativity. She is drawn to anything and everything related to The Arts. Dance. Drama. Painting. Sculpture. Drawing. Singing. People who don't know her nearly as well as our family does will remark about her apparent love for art, for performance.
It's mentioned in parent-teacher conferences and even just casual conversations with her preschool teachers. The child produces a
m a s s i v e
amount of artwork...so much that we packed up more than three LARGE moving boxes full of it. She is always singing, "writing" poetry, creating paintings and drawings, using her imagination in vivid and wild ways. In short, she's a natural creative.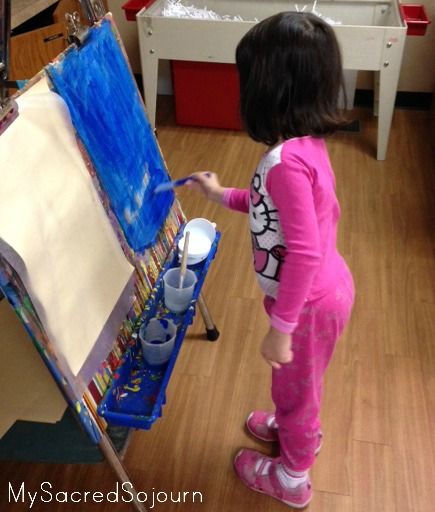 At preschool: she would spend hours a week at the easel.
My husband and I are determined to support the natural "bent" of each of our children. I'll admit, encouraging this particular interest set comes pretty naturally to me. I also love The Arts. I thought it might be helpful to write a series, "Encouraging the Creative Child" for those parents that may not find it as natural or easy to encourage this particular set of interests. Maybe it's just not your thing...and that's ok! I'll share what we do in our house with the hopes that it will help you support your creative child. Here are what I consider the very basics of supporting my children's creativity.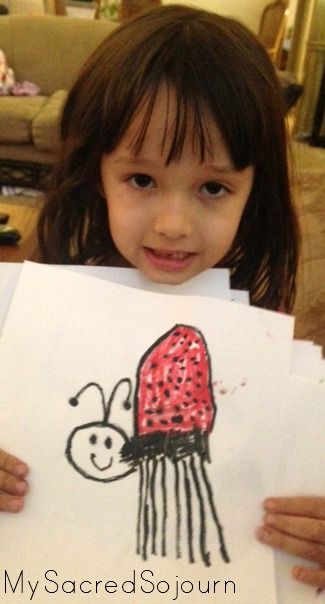 Always drawing, always creating
1) We give her

SPACE

to create.
I was so excited that our new home would have a large room that could be a dedicated art space. But even in our last house (that was half the size!) we made certain she had an area that was always available for creating artwork. At times it was just a small child's table, then it grew to an entire desk area. You can imagine her delight to have an entire room!
She created 4 trees, one per season. This activity was 100% child-initiated and child-led.


2) We give her

MATERIALS

with which to create.
Art materials
don't
have to be expensive. When her interest was with sculpture, I would make tons of homemade play dough and provide cookie cutters, a rolling pin, pipe cleaners, googly eyes, etc. Now that her interest has been drawn to painting, we are providing lots of different types of paper (typing, rolled paper, canvases, construction paper, etc.), acrylic and kids' washable tempera paints and different types of instruments to paint with...artist's brushes, pipe cleaners, feathers, clothespins with pom pom balls in the ends and whatever else she thinks up. :)
We also have a wide variety of other art materials that I've picked up very inexpensively at yard sales, thrift stores, dollar stores and craft store sales. Recycled materials come in handy too. Building up an art supply closet doesn't have to be expensive, if done over time and by shopping sales. I'll share more about how we provide tons of supplies without breaking the bank in a future series post.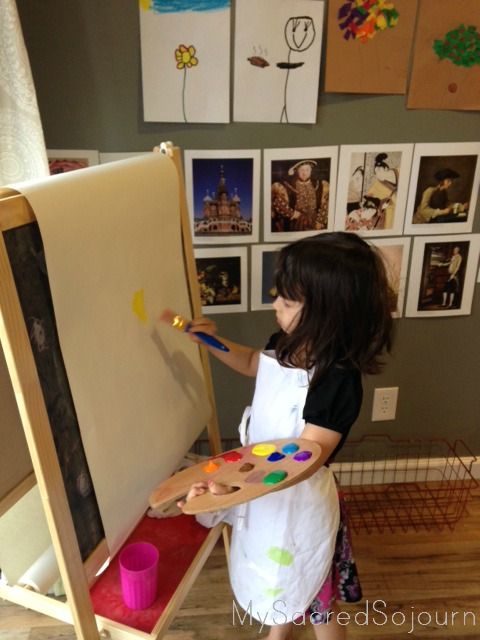 This easel was only $15 from IKEA, an inexpensive, but valuable addition to our studio.
3) We give her

TIME

to create.
The art room in our home is available almost constantly. Occasionally, we will limit access (for instance, if the kids have used the room, but didn't clean up after a recent creative endeavor and we need to have a group clean up party) or if we're doing a project that requires too much space (like when Hubs helped me put
my desk space
together), but most of the time, the room is open for use.
First thing in the morning (before changing out of her Hello Kitty bathrobe), she hit the studio, armed with the idea to use bubble wrap in print making. Again, this was 100% child-initiated.
4) We

EXPOSE

her to The Arts at every opportunity.
I could write a book about all the ways we include The Arts in our daily life, but I'll make it easy and just give you bullet points. :)
We listen to music every day. And we sing. A lot. ;)
One of my favorite yard sale finds was an unopened packet of artist prints from a classroom curriculum set. (Teachers who have yard sales are my favorite people.) :) Now the prints hang next to our easel, providing inspiration and conversation starters.
We look up YouTube videos of music, performances, dance, artist tutorials and biographies and more. (ALL YouTube videos are pre-screened for safety.)
When we read children's books, we talk about the artwork.
Now that we're in a much larger city, we're planning to take advantage of the many FREE art museums.
One of the local universities offers art courses for young children (ages 5 and up). We've already discussed how we'll work this into our education budget.
We're researching what lessons are available in our area: piano, guitar, painting, drama, dance...we're looking at our options and determining which might be a good fit for our Creative Child. And we're including her in this process.
We TALK! We discuss what she's creating, where the ideas came from. When we listen to music, watch a video or look at a piece of art, we talk about what that person might have been thinking or feeling as they created it, the materials/instruments/techniques they might have used, etc. I give her vocabulary to support her interest so that when we discuss it the next time, she can express herself.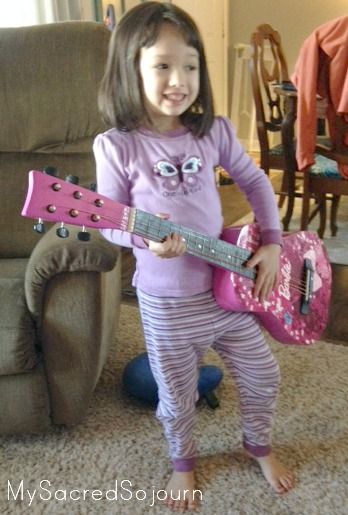 Her interest in her Uncles' guitars prompted this Christmas gift from her Grandpa. The entire family supports her interests.
Living in a larger city has major advantages as we have access to several theater companies, including some that do children's productions. We plan to work that into our budget too, probably as a mommy-daughter or daddy-daughter date night idea.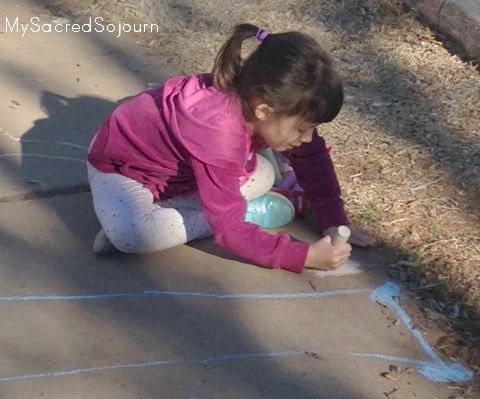 I hope this gives you some ideas to encourage the creativity of your young artists! Stay tuned...I have many more posts to share on this subject in the coming weeks so I hope you'll join the conversation!
Blessings,
April