When we moved to Kansas City, I had to leave my awesome built-in desk in the old house. I needed a new one here, but with a whole house to furnish and a commitment to spend as little as possible (so we can put money toward our goal of being debt-free) what's a thrifty girl to do? After finding inspiration on Pinterest (of course!) I showed my husband
the inspiration photo.
"Couldn't we do this?" I asked and in about 2 minutes we were headed to Lowe's. Gotta love that guy!
This is what we purchased:
Tropical Oasis spray paint $3.78
Dark Walnut wood stain $7.38
1x10x6 whitewood boards (3 @ $5.02 each) $15.06
White shelf brackets (6 @ 1.26 each) $7.56
Saw horse brackets (2 sets @ 7.93 each) $15.86
2x4x96" (3 @ 3.21) $9.63
Total spent $59.27
After making the cuts (you could have Lowe's do this for you), Hubby stained the legs, desktop supports and shelves (and we had a bunch of stain left for other projects!) I spray painted the shelf brackets and we let everything dry overnight. We re-purposed a hollow core door that was in our house when we bought it, so that saved us some money. After that it was as simple as hanging the shelves and putting the desk top on top of the legs.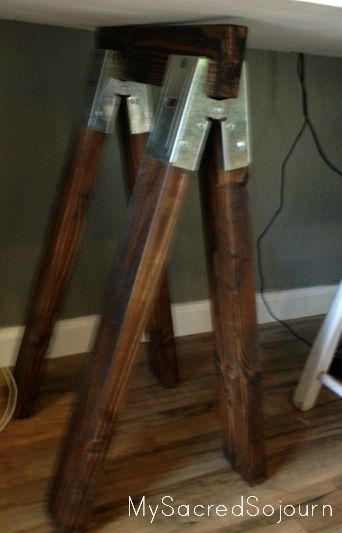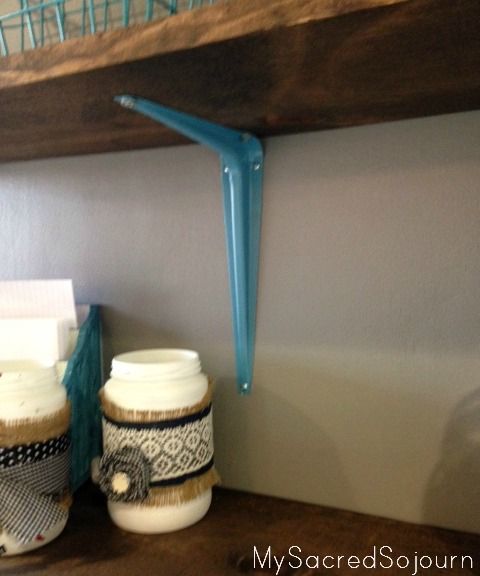 And that's it! Easiest and cheapest desk ever! And I absolutely love the way it all came out! There's a ton of room to work and the shelves provide so much storage. I'm still unpacking boxes and adding things to the shelves, but they'll be cute as a button in no time. :)
Blessings,
April
I'm sharing this at: