After a dreary, rainy week, I decided that I needed some spring-like beauty in the house, so I put together a cute little arrangement for our dining table. Creating this vignette served a two-fold purpose. I wanted something pretty to look at, but mostly I wanted to put the silverware and cloth napkins out so the kids can reach them to help set the table at meal times.
I started with a vintage cotton table runner. I received this from Nana, my great-grandmother. She was always embroidering and I think she might have made this when she was much younger, but I'm not certain. Either way, it always makes me think of her.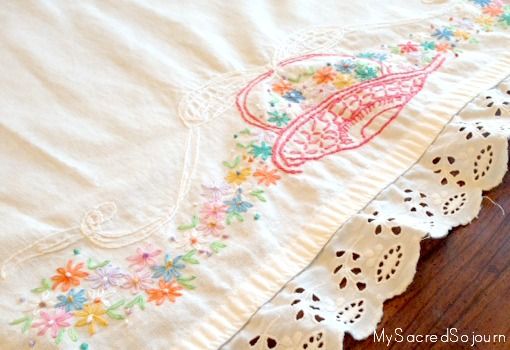 I added a vintage metal Coca-Cola crate and our silverware placed in some glass jars. My birthday flowers got a clean up and divided between two smaller jars and added to the mix. Lastly, I put our cloth napkins in the crate.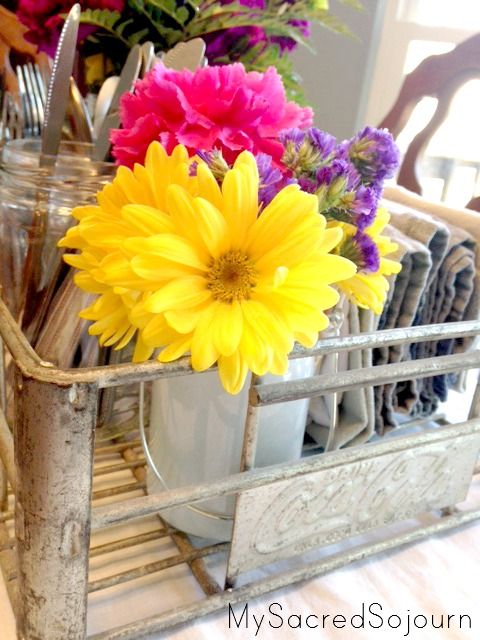 I think my Nana would have loved seeing this and sitting with me over a cup of tea, watching my daughters play in the yard and talking about what contestants on The Price Is Right had bid. ;) We're coming up on the 9th anniversary of her death and I miss her so much, but seeing this little vignette makes it feel that she's a little bit closer.
Blessings,
April