**If you are pregnant or have a heart condition, you might want to skip this post. I'm about to share pictures of the ugliest clock in existence. You've been warned.**
Before we moved from Oklahoma, my brother and husband told me they'd found this awesome clock that they knew I would want for our new house. They brought it to me, laughing about it, practically taunting me with it. Inside I was like:
But outside, I was like:
So, I packed that dang clock up and brought it Kansas City with me. Are you adequately prepared to see the clock in all its, um, glory? And by prepared, I mean you have a trash can close by in case you become sick?
.
.
.
.
.
.
.
.
.
.
.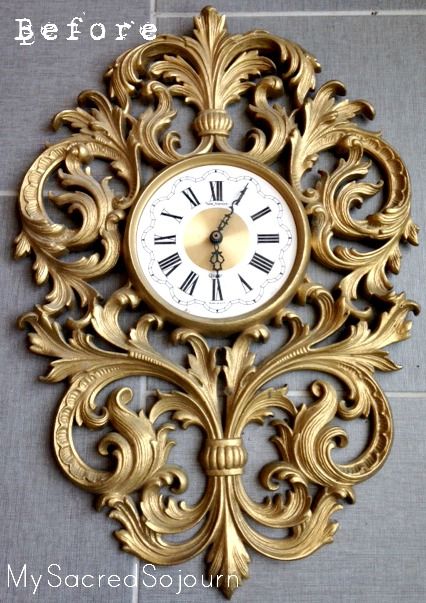 Consider this: at some point in history, not only did someone find this attractive AS IS, but they paid full price for it. And a lot of someones because this is molded plastic. This was made in a FACTORY somewhere, you know, where things are MASS PRODUCED. I imagine that it hung over a sofa that looked a lot like this one, except probably covered in plastic:
And some sweet woman dipped her bread in the cheesy fondue and then said, "Oh, Marg, you MUST to tell me where you found that gorgeous clock!"
Anyway, fast forward to 2015 and the wonders of modern science and vision now assure us that this is NOT actually a beautiful clock. But I couldn't toss it because those two guys had made fun of me and my sure-I'll-makeover-your-junk thrifty decorating ways. I HAD to do something with it.
Enter these supplies, stage right:
Adorable scrapbook paper, a circle cutter and cutting mat, the clock parts...not pictured is a can of spray paint and a package of clock numbers (they were gold, but I painted them black.) After about 30 minutes of work (not counting drying time), I grabbed a hammer and nails and hung this baby on the wall. Take that, naysayers. Take. That.
And here it is, my new beauty.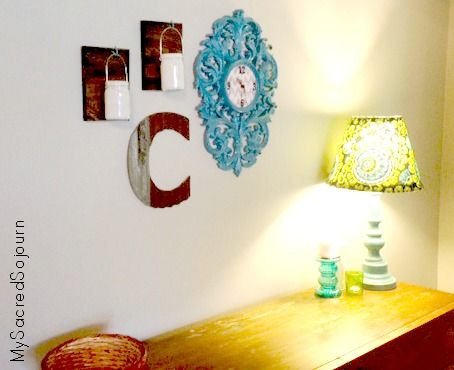 (Such a dark corner...sorry for the cruddy picture.)
Aww, only Red says it best:
And now, when friends come to visit, if they don't say "Oh, April, you MUST to tell me where you found that gorgeous clock!" then I most definitely won't serve them the cheesy fondue.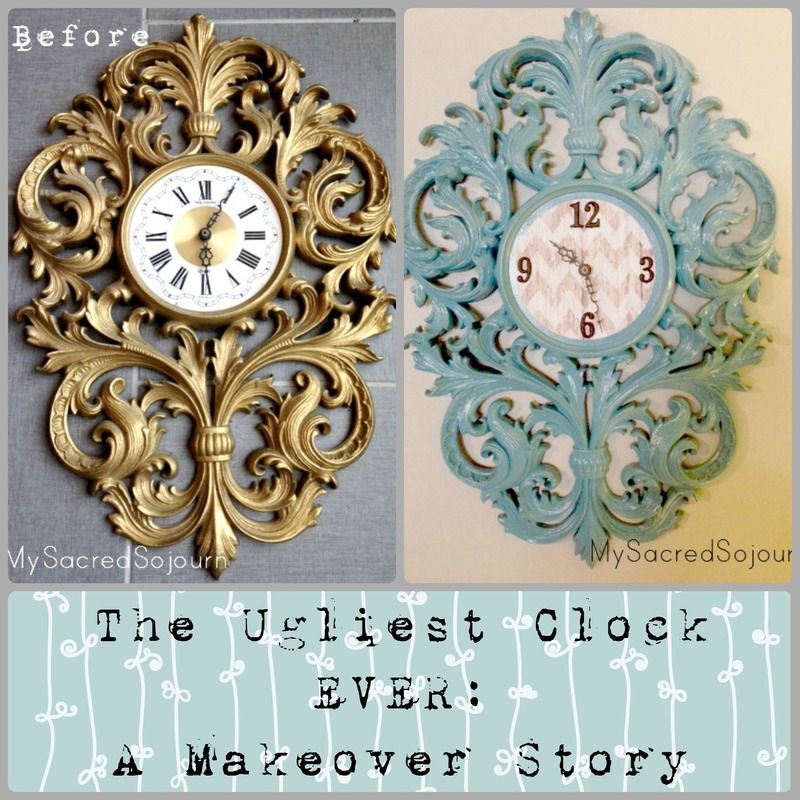 Blessings,
April
PS: I'm linking up this easy project to: