...for a three-hundred mile move. :) Sorry for my absence, but the last few weeks have been spent packing, cleaning, driving and moving boxes to our new home! I never shared the story of this home with you, so let me start with that.
My husband started his job in Kansas City in January, leaving the girls and I in Oklahoma, prepping for the move. We had already spent two weekends in KC trying to find a home, with no luck. I saw this online, sent him the link and he set up an appointment, looked at it and made an offer the same day. Without me. That's right....we bought a house I had never seen before! I can't tell you how many people thought I was crazy! But I just trusted that not only would he make a wise decision, but that our Heavenly Father knew what was best for our family. And I'm so thankful that this is the place he chose for us!
Let me tell you, this home is perfect. I love so much about it. Everything, from the stain to the paint colors, light fixtures and tile choices look like they were selected just for me. I'm not kidding...it's like this home was designed with me in mind. I don't have many pictures to share yet, since most rooms are in disaster mode, but here are a few from the first few days after we moved in.
When you enter our home, the first thing you see is this gigantic stone fireplace and the dark-stained wood-planked ceiling. I absolutely love this room.
Opposite the fireplace is the staircase. I can already envision this draped with Christmas garland and twinkle lights. :) The nook at the top of the stairs (on the left) is going to be a small reading area for the kiddos. Our girls LOVE these stairs and spend a ton of time everyday just going up and down. Up and down. Up. And. Down. The blankets you see? Part of a game they were playing with a "princess carpet."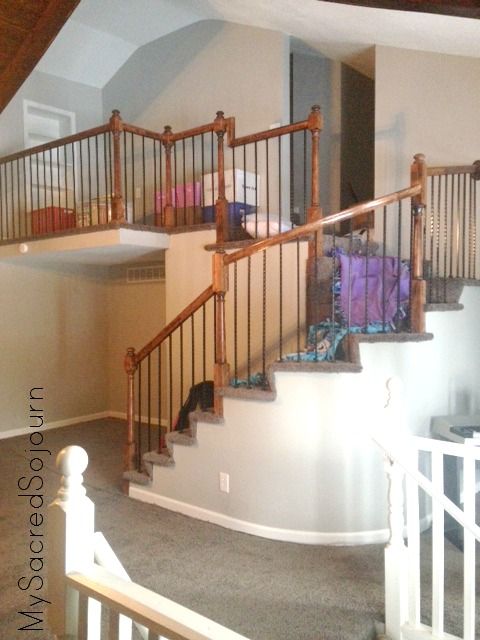 The kitchen. Oh, I love this room. We had just remodeled the Oklahoma house when we found out we would be moving and guess what? I had selected white cabinets and gray walls. And what's in this house? White cabinets and gray walls. :) Happy Mama.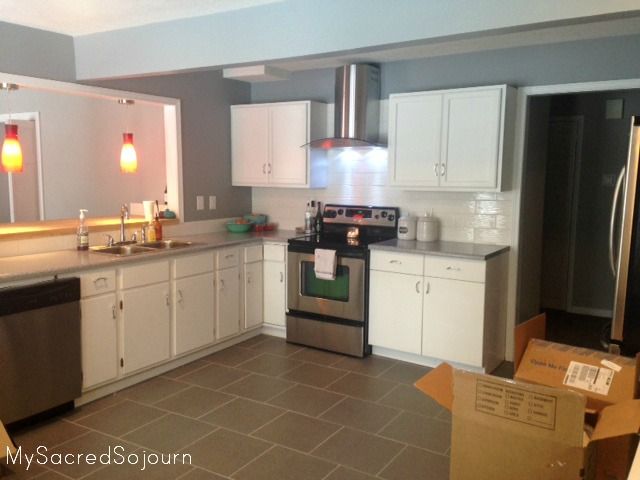 And opposite the cabinet side of the kitchen is the eat-in area. The bay window looks out into the backyard where we regularly see 20-30 birds at a time. I love seeing those bright red cardinals in the snow. Just gorgeous! And see that room behind the table? That's going to be our art studio. Right now? So much mess.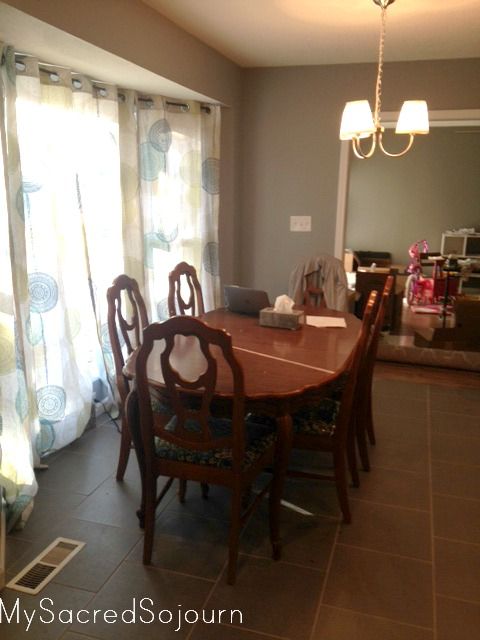 I couldn't wait to set this little area up. This nook is to the right of the front door and we decided from Day One that it would be the perfect area for my keyboard. Yesterday, I sewed the floral drapes for those ridiculously long windows and hung my cross collection on the wall. I'm sure I'll be adding to it over time. There's room for a chair and side table and I expect this will be a nice spot to sit and do my Bible reading, worship and devotions. And Big Sister can't wait to start piano lessons. :)
This is basically my life at the moment. I'm unpacking, as fast as the kids will let me. This is such a huge change in our lives that they've needed lots of extra snuggles this week. And I'll never turn down extra snuggles, so it will take a little longer than expected to get this house in tip-top shape. ;)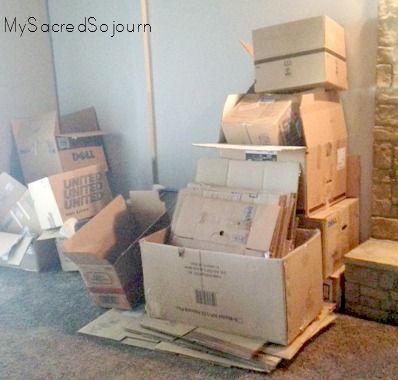 There's been one thing on my heart this week, something I haven't been able to shake. I've prayed about it, almost repeatedly. "Lord, why place us in this gigantic home?" Believe me, we weren't looking for a five-bedroom home, nor do we need that much space. We've lived quite contentedly in a home half this size for the last five years. But as soon as we knew we were moving, our prayer has been that God would place us in the neighborhood where he wanted us, someplace we could connect and build community, somewhere we could be of service to his kingdom and extend his love. So, I may not really know what that looks like right now, or what his purposes are for all of this room, but I know he will use it all for his glory. I'm just thankful that he chose us to play a small role in his big plans.
In the meantime, if you need me, check behind that stack of boxes!
Blessings,
April