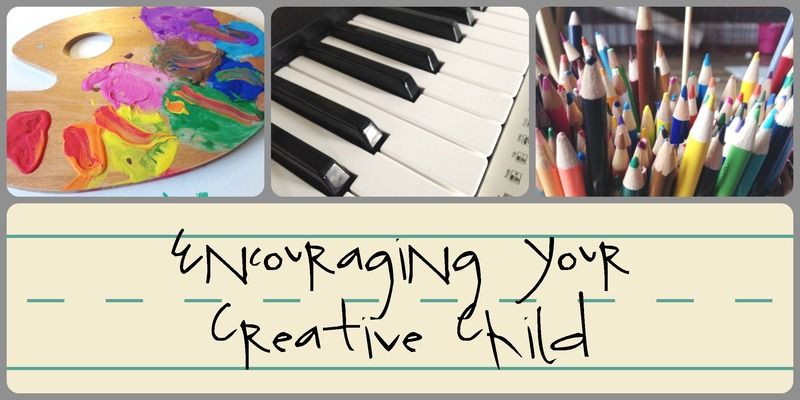 This is Part II of a multi-part series. If you missed Part I, you can
read it here
.
In
Part I
, I explained that one of the ways we encourage our creative 5-year old is by providing a wide variety of art supplies. This does not have to break the bank, though!
Here are SIX thrifty ways we've filled up our supply closet.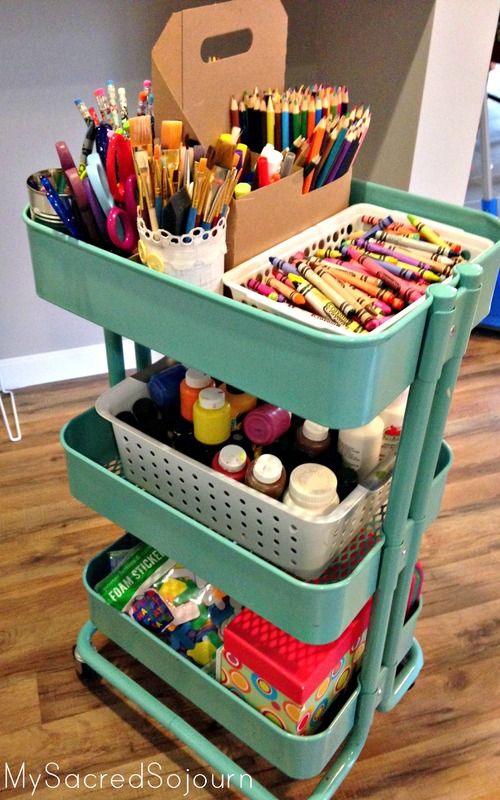 This IKEA cart holds some of the most used supplies and fits into our big supply closet. I'll share in a later post about our art space and organization.
1) Recycled Materials
Some of these materials you may not have considered recycling into art.
Each link takes you to a different project you can make with that item.
I found all of these via Pinterest! Simply search for whatever item you have plus kids art (for instance, a search for "recycled art kids" yields
lots of results
! Or "toilet paper crafts", "aluminum foil art for kids" etc.)
2) Yard Sales and Thrift Stores
Believe it or not, this can be a great way of acquiring art materials. I think sometimes people want to try out a method or art product and they end up either not liking it or not using all of it and sell the materials for way less than retail.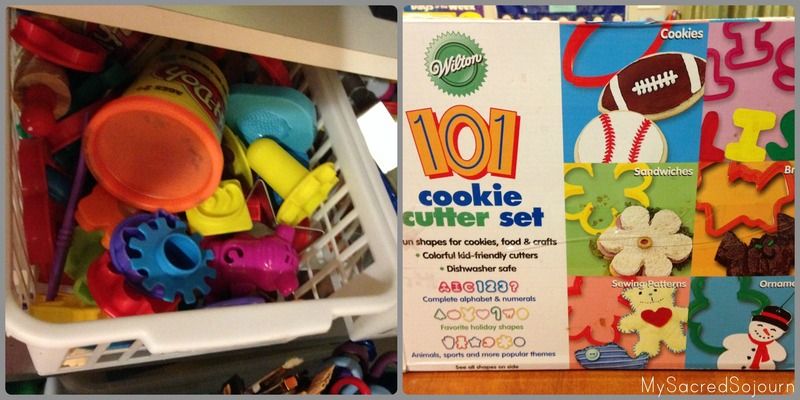 Most of our play dough tools are from yard sales. The box of cookie cutters on the right was just $2!
We have found scrapbook paper, stickers, stamps and pads; ink, pens and markers, wooden cutouts for painting, ribbon, yarn, fabric, buttons, canvases, and more! These are also great places to find art books and inexpensive prints, too.
Wooden ornaments and cutouts purchased from yard sales can easily be re-painted; thread purchased from thrift store for 25c




3) Dollar/discount stores
Stores like Dollar Tree, Dollar General and Family Dollar (and the Target dollar spot!) are a great thrifty resource. If you take your creative child into a dollar store, I GUARANTEE they could think of a project for nearly everything in the store! :) These are items you can find year round, but don't forget all the seasonal goodies too! This is also a great place to get baskets and bins for storing all those supplies!
A few Dollar Tree items we picked up last week: Glitter Glue and Feathers
Here is just a sample of the types of things I've found at these discount stores. In fact, I could probably do an entire post just on dollar store art and craft supplies!
Basic materials (scissors, paper, tape, glue and glue sticks)
Pens, pencils, markers, colored pencils, crayons (I stick with Crayola brand because we like them best)
Poster board: for large-scale projects
Paper plates and cup
Popsicle sticks in assorted sizes
Stickers
Colored rocks/marbles (great for mosaic stepping stones!)
Q-tips and cotton balls
Chalk: Sidewalk and regular "teacher" chalk
Ingredients to make a variety of play dough and paint recipes (flour, salt, hair conditioner, food coloring, Kool-Aid, etc.)
Pipe Cleaners
Silk flowers
Tissue paper and gift wrap
Dried beans, rice, and pasta (can be dyed to use in mosaic projects, to make pasta jewelry, etc.)
This may seem obvious, but there are bargains to be found here! Check the Clearance section first. You never know what you'll find. We also search the dollar section. The stores we have access to (Joann's, Michaels and Hobby Lobby) all offer weekly sales and we ONLY buy items that are on sale or if we have a coupon. No sense in paying full price if it will be on sale next week!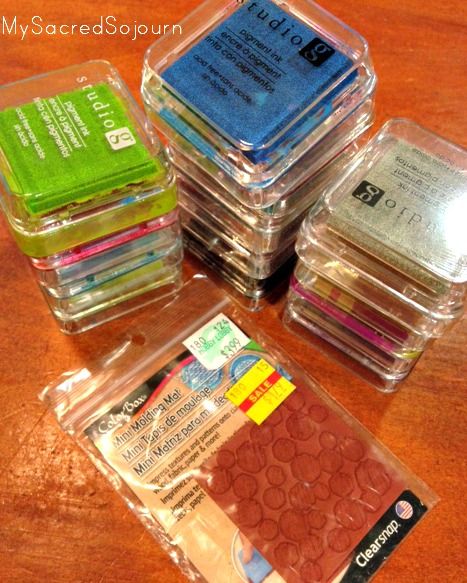 I found most of those little stamp pads at Joann Crafts for 25c on the clearance rack. The molding mat was a Hobby Lobby clearance find; we'll use it for both play dough and mixed media stamping.
5) Back to School Sales
When August rolls around, back to school sales abound! You can usually find packs of crayons, markers, colored pencils, paper, and more on deep discount. That's the perfect time to stock up! Buy several packs and you won't have to pay full price if you run out in February!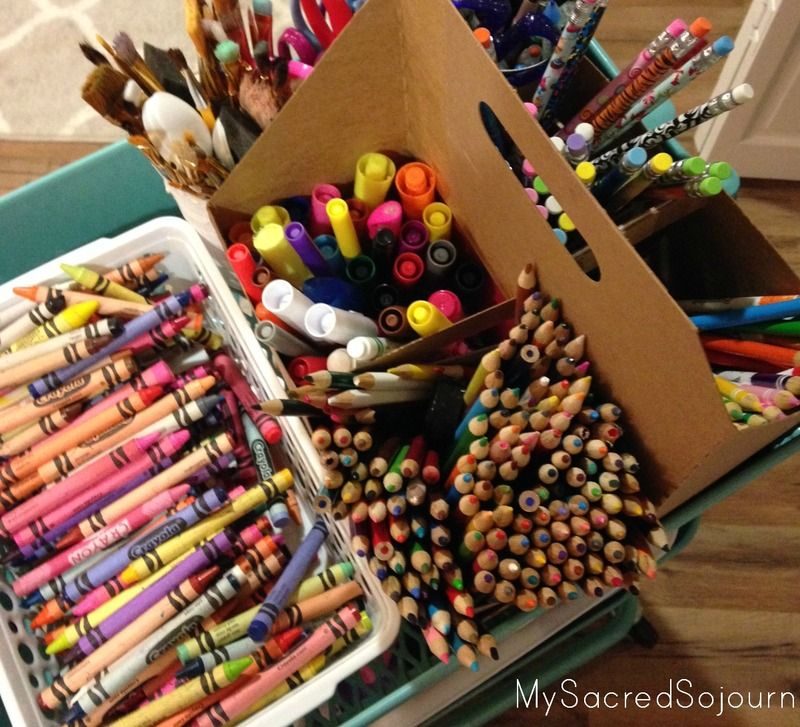 I have our stash of writing utensils stored in a FREE drink carrier from a fast food place and crayons are in a Dollar Tree plastic bin.
6) Gifts
I hesitated to put this on here, but it's one of the ways we've acquired art supplies for our girls. They don't really need toys when birthdays and Christmas roll around, so when grandparents, aunts, uncles and friends ask, I tell them that the girls love art supplies!
This year, they received really neat art kits like the
self-portrait kit
above (that both my girls LOVED!), a
Melissa and Doug play dough kit
, as well as scrapbook paper, markers and coloring books. Miss A was in supply heaven! :)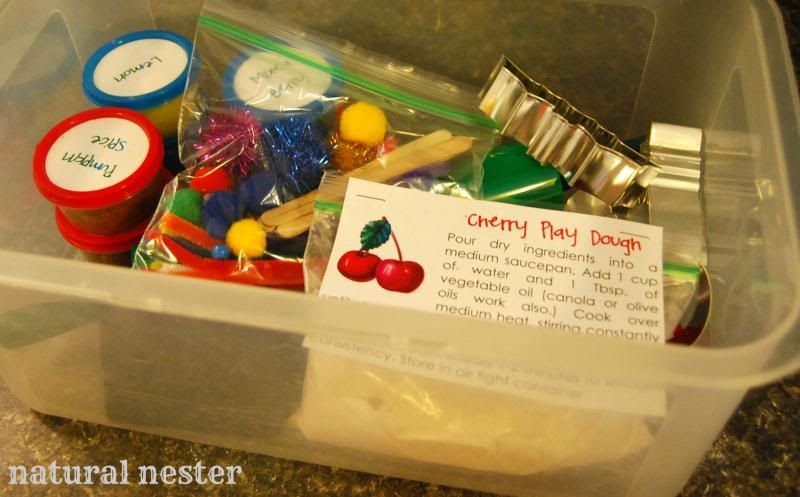 Incidentally, this is also the kind of gift we usually choose to give! Here is a play dough kit we created for a friend's birthday.
I hope this post has given you some ideas for ways to build up an art supply stash for your child that won't break the bank! If you have any questions, please don't hesitate to ask it in the comments. And if you find great bargains, feel free to come back and share them here! Most importantly, I hope you'll be willing to
use whatever you have to explore the creative process WITH your child!
Blessings,
April