Last week, it got cold and dreary here in Kansas City, so we were stuck inside for a few days. I had a blank spot above my kitchen shelves and knew exactly what I wanted there. I also wanted needed to do something creative, so I grabbed an old sign I've had for a long time and got to work. I share a sneak peak on Instagram and in last week's Week In Review post.
This is the sign before. It's an old piece of wood I found on a farm a long time ago. I painted it during our first year of marriage and have carried it with us from home to home for the last 13 years. It was time for an update. :)

I'm sorry this part is so hard to see. :( After painting the board with white craft paint (3 coats to cover the black!) I cut a stencil using my Silhouette SD. I chose two different fonts: Pea NJH Script (available for free download
HERE
) and Georgia (a standard Microsoft Word font). I traced my stencils onto the board very lightly with pencil.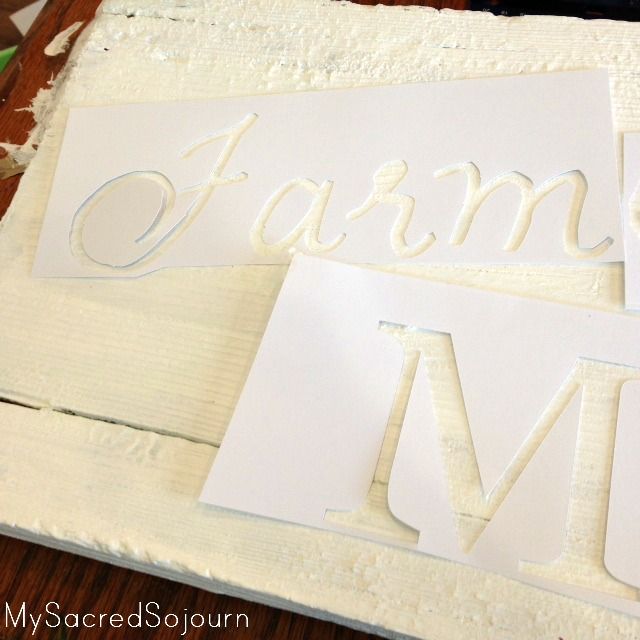 Now for the fun part...I chose to fill in my lines with black craft paint by hand. You could cut a vinyl stencil and use a stencil brush to paint it in, but I never like the way stencils look when I do them. I'm sure it's user error. ;) I don't mind the time and steady hand this takes though...I find it therapeutic. But I'm kind of crazy.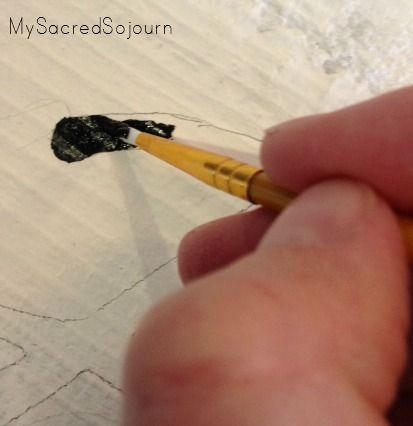 I also cut a chevron stencil out and applied it, filling it with green craft paint. Once it was all dry, I lightly distressed the entire sign with some sand paper. I say lightly because I bought cheap sandpaper and it literally fell apart in my hand as I was trying to rough up the sign. The sand was falling off the paper. Lesson #1 of crafting: cheap supplies aren't always the best. ;)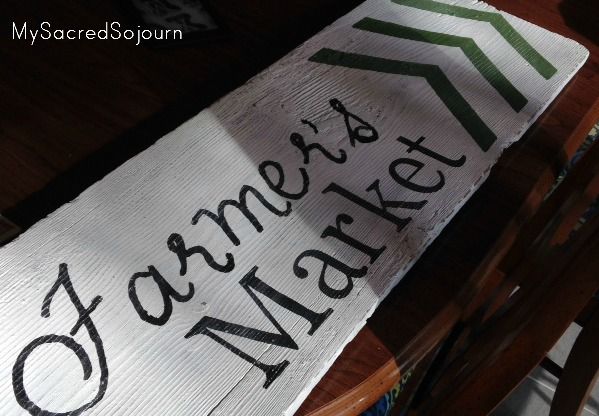 I LOVE the way my sign turned out!! I sweet talked my husband into hanging it above the kitchen shelves for me and it looks even better than I imagined! It's the perfect piece to go above my vintage Pyrex mixing bowl collection (that I still use and love!) Now to find some vintage or vintage-inspired canisters for my pantry goods and this shelf set up will be perfect!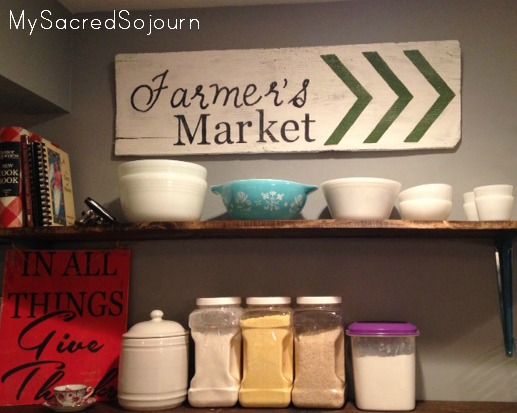 Blessings,
April
PS: I'm linking up here: