All last week I was plagued by guilt that I didn't get those other projects posted for my Pinterest challenge. WHY do I do this to myself?? I'm a crazy person, I tell ya'. The negative self talk was getting out of hand...you know, thoughts like, "You haven't gotten anything done. You wasted this entire week!" But I really DID get a lot done, so I told that negative talk to get out of my head and decided to post this as an Ode to Last Week. :)
These photos are straight out of my phone, completely unedited. Lucky you. ;)
Cuddling: This gal. She had a few sick days last week. We were blessed it wasn't ANOTHER ear infection, like we thought. But we got a referral to an ENT to determine if Gigi will need to get tubes in her ears. :(
Crafting: A dry erase menu board. I found it at a thrift store for $1.99. I painted the frame with blue chalk paint, dry brushed some darker paint on and nailed it to our small pantry door. Perfect spot for my weekly menu and only took me 20 minutes start to finish. My favorite kind of project.
Sanding, Forever Sanding: A dresser. This project will NOT take 20 minutes. It might take 20 hours. Or 20 years. Ugh. Hopefully I'll be able to show you the finished piece sometime before Christmas. One drawer done, FIVE more to go. Jesus take the wheel.
Enjoying: The sunshine. It finally stopped raining. This gal thought she should have afternoon quiet time on our tiny little deck. Can't say that I blame her...looks pretty comfy. :)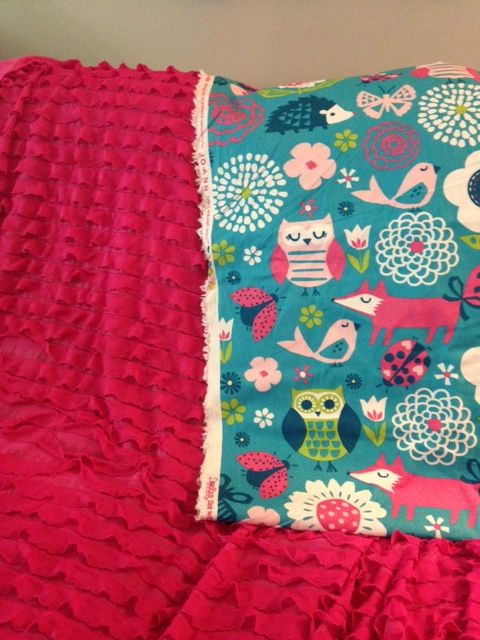 Planning: Our daughters' shared bedroom. After telling me for six weeks that she wanted a rainbow bedroom, Miss A saw the owl and fox fabric on the right at Joann Fabric and Craft store and yelled, "That's IT! THAT'S my fabric!" So, I'm scrapping most of the ideas I found on Pinterest. I think I have a new plan and if I can figure out how to make one of those little design boards, I'll share it at some point. The pink ruffly fabric is almost 2 yards long and I picked it up at a yard sale for just $2! It's a perfect match to the dark pink in the other fabric...now to figure out where to use it..
Praying: Galatians 5:13. We found a new church (Thank you, Jesus!!!!) and absolutely love it. My girls come home every week telling me about their Bible story and the friends they've met. It's been such a blessing. This is the verse they've been talking about in class, so we're extending that lesson to home. We all need the moment-by-moment reminder that we are called to SERVE one another in love. It's hard and humbling and sanctifying. I'm so grateful for the work of Holy Spirit to empower us to do what he's called us to.
So, spill the beans...what are you doing right now?
Blessings,
April