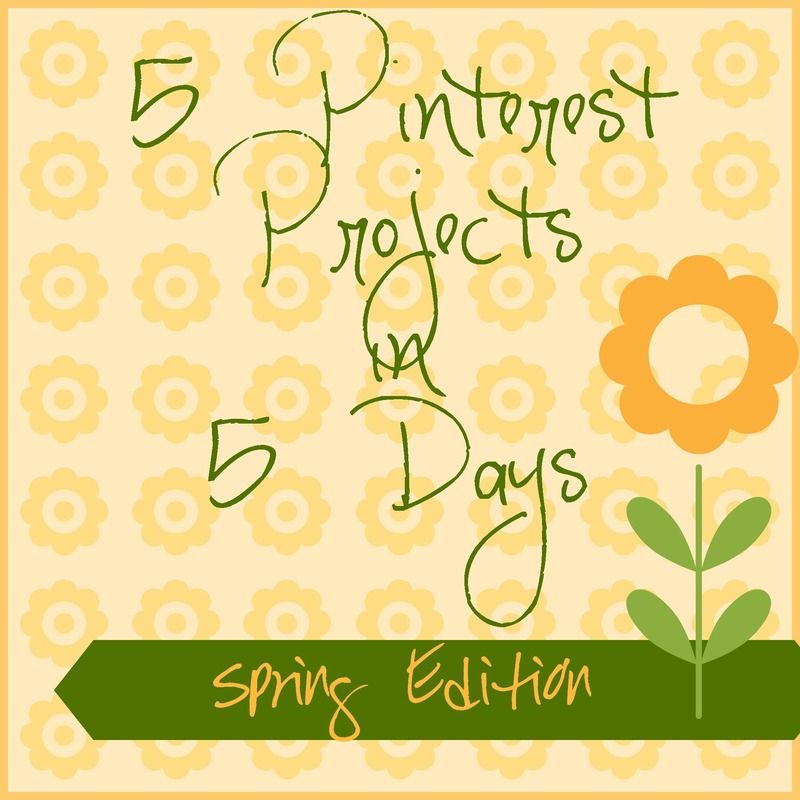 So, yeah I was supposed to post my first project yesterday. Only guess what? It was a spectacular craftastrophe!! I'll post the details later in the week, when I work through Plan B. :) For now, I'm sharing another Pinterest Project that I didn't link in the Intro Post (which
you can read HERE
.) I think technically this could count for all 5 projects because it took A LOT of time and A LOT of materials and A LOT of creativity. ;) This is less a tutorial and more a show-and-tell.
PS: Please excuse my photography...my amazing husband bought me a new camera and for the life of me, I can't figure it out yet.
A few weeks ago when my parents came to visit, they brought a BUNCH of yard sale treasures they'd gathered up for me. That, my friends, is my love language. :) Mom knew I could work my crafty magic to fix everything up, so that's just what I did!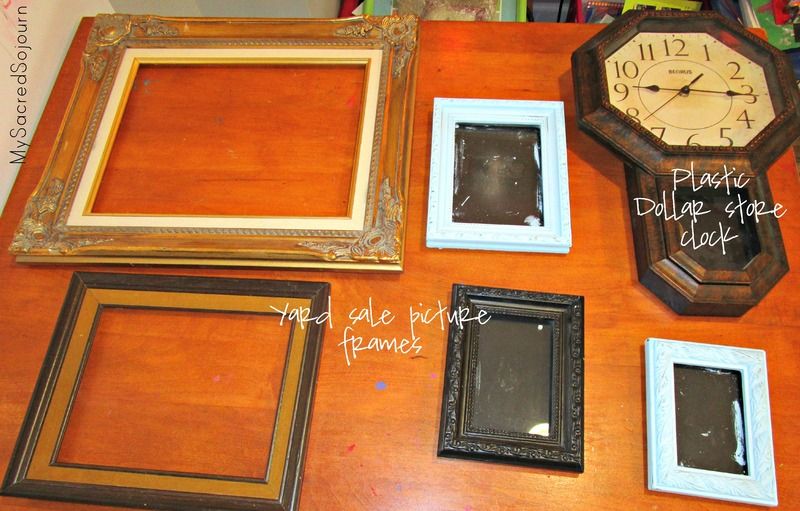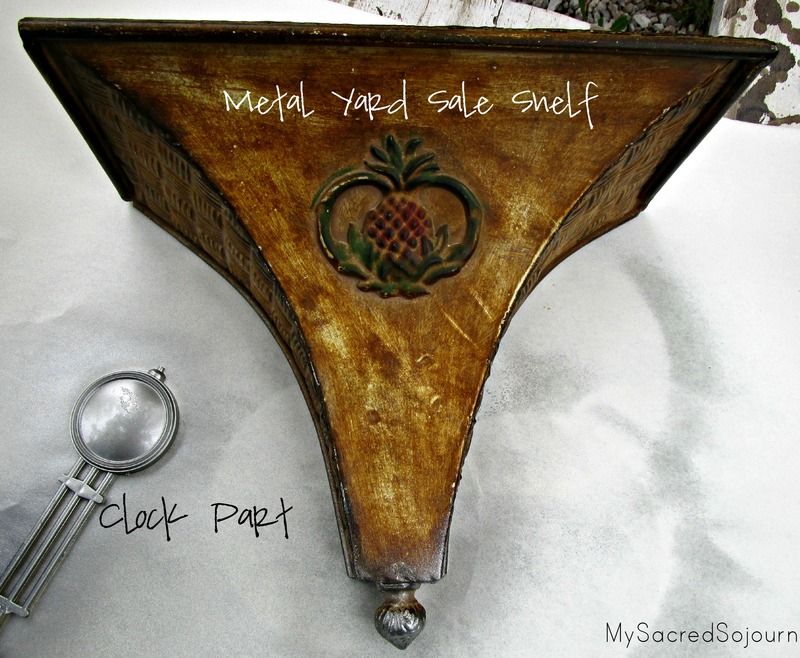 Once everything was painted with craft and spray paint, I hung it all up on the wall and then started adding details like the family photos, little wooden craft cutouts (from Michaels Craft Store) and chipboard words. I also used scrapbook paper and recycled wrapping paper bits.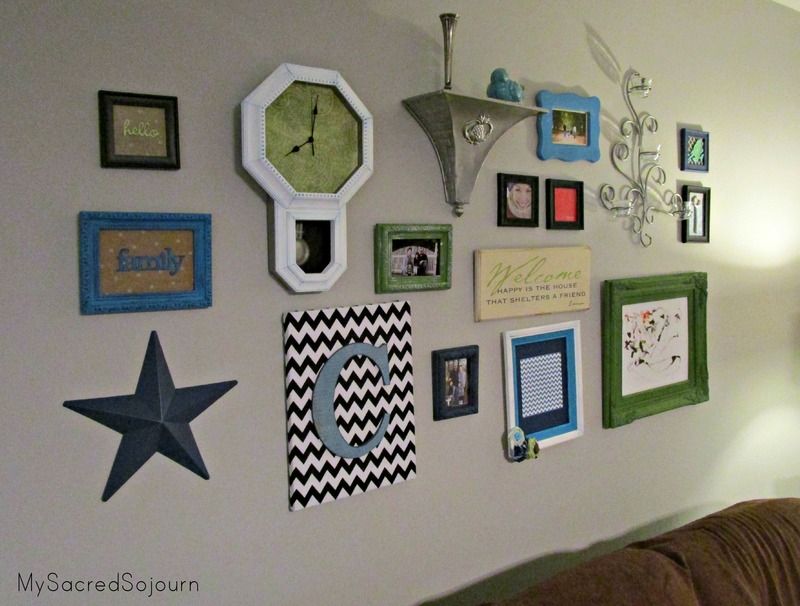 This "family" frame is my favorite. The shade of blue is lovely and it perfectly captures us...a mix of playful whimsy, not afraid to show our rough edges. :)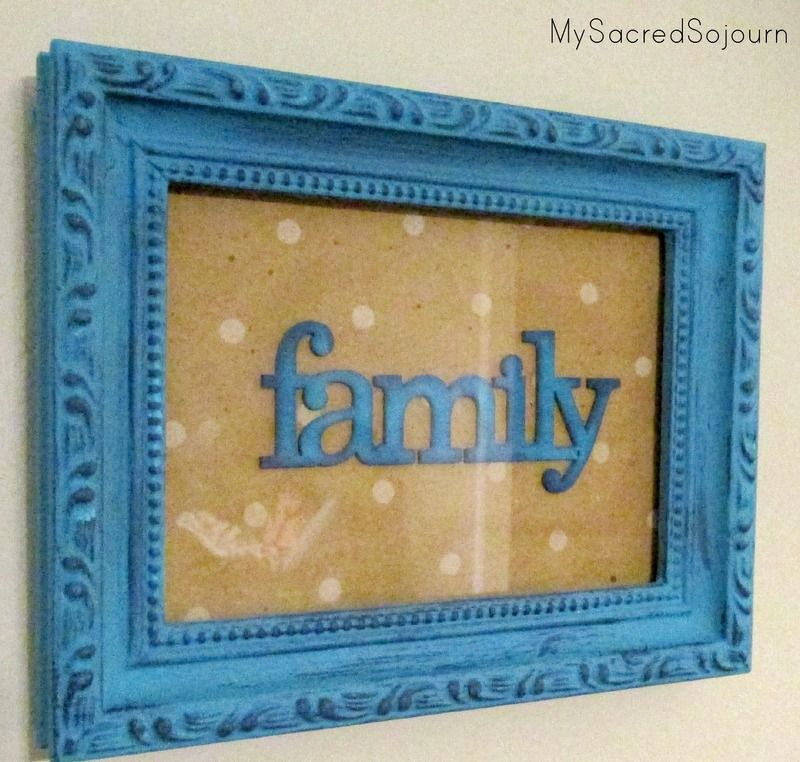 The bird is also a favorite element...I love how the paint/stamping turned out.
I need to hit the craft store for some clock numbers, but for now, the clock is such a pretty girl! I painted it white and dry brushed with a bit of blue to bring out some of her details. You can't even tell she's plastic now. My only complaint is that she tick-tocks SO LOUDLY!
The green frame currently has a canvas board that someone (either Miss A or Gigi) painted when they were babies. I'm thinking about what I want to put in the frame...I might have Miss A paint me one of her famous rainbows. ;) That swirly candle holder was also a yard sale find. Isn't my Mom awesome??
See how lovely the metal shelf is now, after a coat of metallic spray paint? I have no idea what to put on top so for now, I just stuck a couple of things there. I also have close up pics of my girls to go in those black frames...you know, instead of a stranger. ;)
The black and white chevron piece is a fabric-covered canvas and wooden letter that I made for our bedroom in our last house. I liked it here better.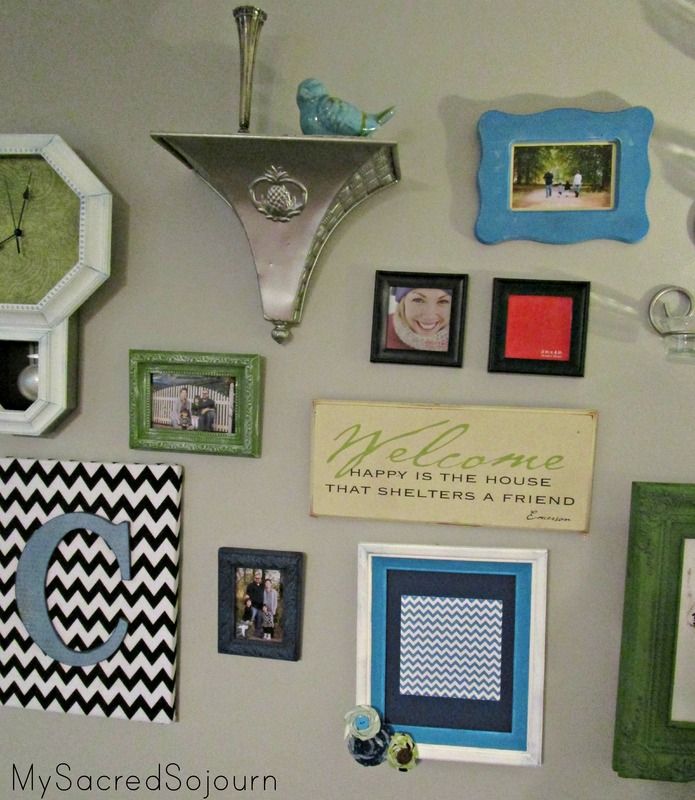 I added rolled fabric flowers to this cute frame. I plan to put a quote or something in the middle, but can't decide what I want exactly. Any suggestions???
And the entire wall again...this is just above one of the sofas in our family room and it makes me smile every time I walk through.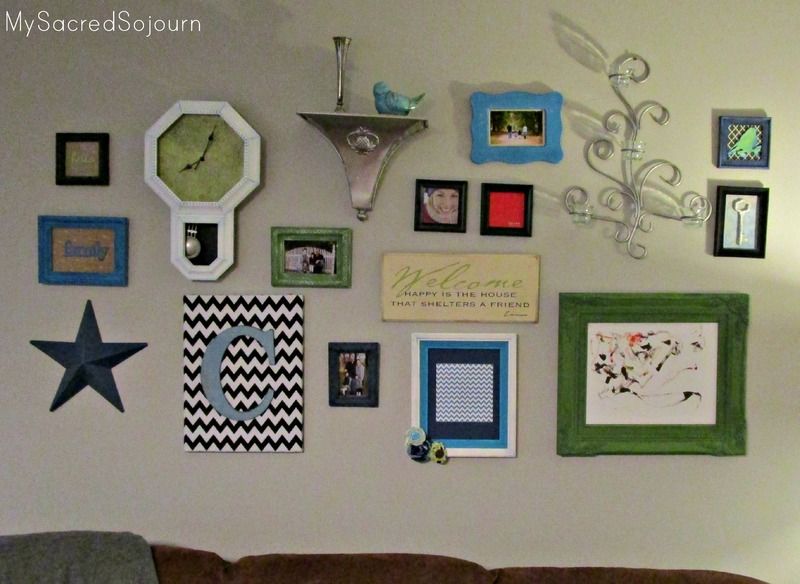 So, that's the Bonus Project...now to start work on the REAL Projects for this challenge! Come back tomorrow to see what the next project is!
Blessings,
April
PS: I'm sharing this at: