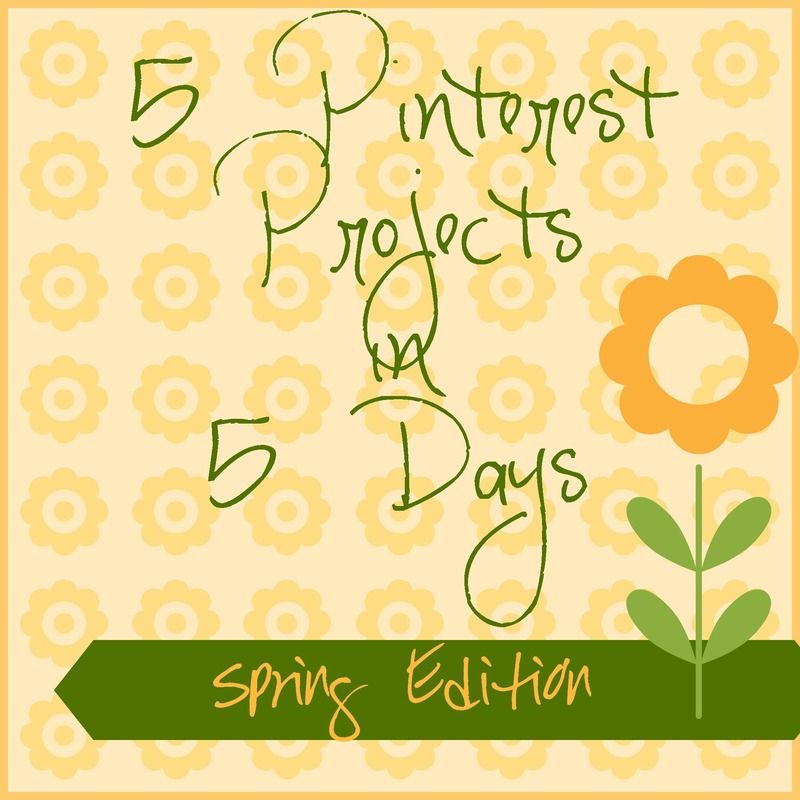 If you're just joining me, you might want to check out my
Intro Post here
and the
Bonus Post: Collage Wall here
. The whole point of this challenge is so that I will "Stop pinning and start doing!" I wanted to tackle some of the projects I've pinned, but have been too afraid to try.
Today I'm sharing my take on the recovered TOMS shoes featured on
Elemental Carbon
. Here is her version. So cute, right??
My shoes are not TOMS brand. I bought them a few years ago at Target and loved them. They were so comfy! But when I pulled them out to wear on a warm day, I realized they had holes in the toes. :( Boo.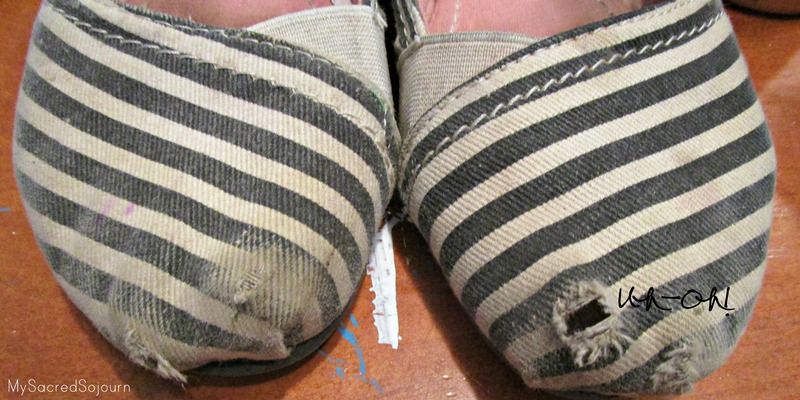 So sad!
I followed the directions from Elemental Carbon, but I loved the look of several patchwork versions I saw on Pinterest. So, I pulled all my fabrics together and got started. Her instructions were VERY easy to follow! The only downside...having to actually touch those gross shoes. Yuckity yuck.
Stack of fabrics...which would YOU use?
After cutting out strips of fabric, I used my sewing machine to add a decorative stitch to the green fabric and to attach some tan lace to another piece, and straight stitches along the top edge of all the others.
My husband came home from work in the middle of the gluing process and looked at me like I was insane. He offered to just take me to the store for new shoes. "WHY are you doing this? We can buy you new shoes!!" It's like he doesn't know me at all. ;) Here is a shoe with all the pieces glued on. I waited until everything dried overnight before using an Exacto knife to cut off the excess fabric.

And here are the shoes after! No more holes in the toes...no more seeing my nail polish!
They're NOT perfect. Even with a very sharp blade (I have the cuts on my fingers to prove it!), the fabric still didn't cut smoothly in some parts. And you can see how some edges were flipping up. I added a bit more glue to secure them. I also plan to use Scotch Guard Outdoor Water Shield spray on them, but it's too chilly right now to spray outside.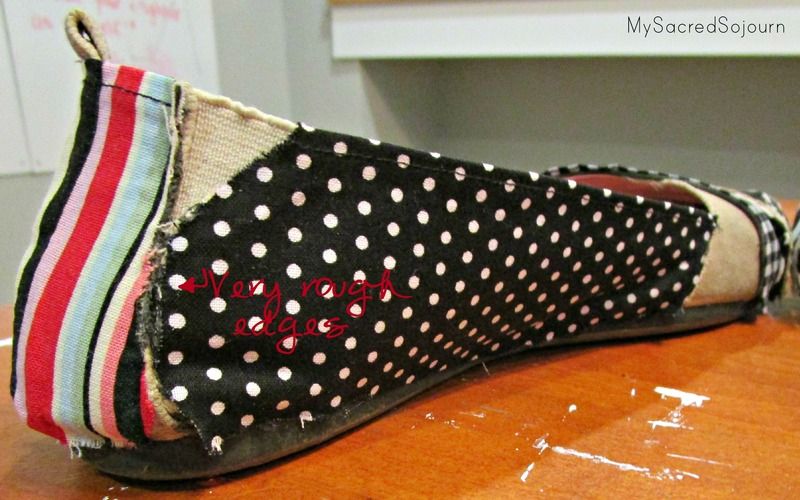 And my Mom is probably shocked right now. I have a "foot issue"...I hate seeing people's feet. So, I cannot believe I'm posting pics of my old, disgusting shoes AND my feet on my blog. Ridiculous, I tell you!
As I was trimming, I thought the rough edges would REALLY bother me and I would just toss these out as a failed project. But when I put them on, I can't see the rough parts. And honestly, who's going to lay down on the floor and look at my feet? NO ONE. Because I'd kick them. With my cute shoes.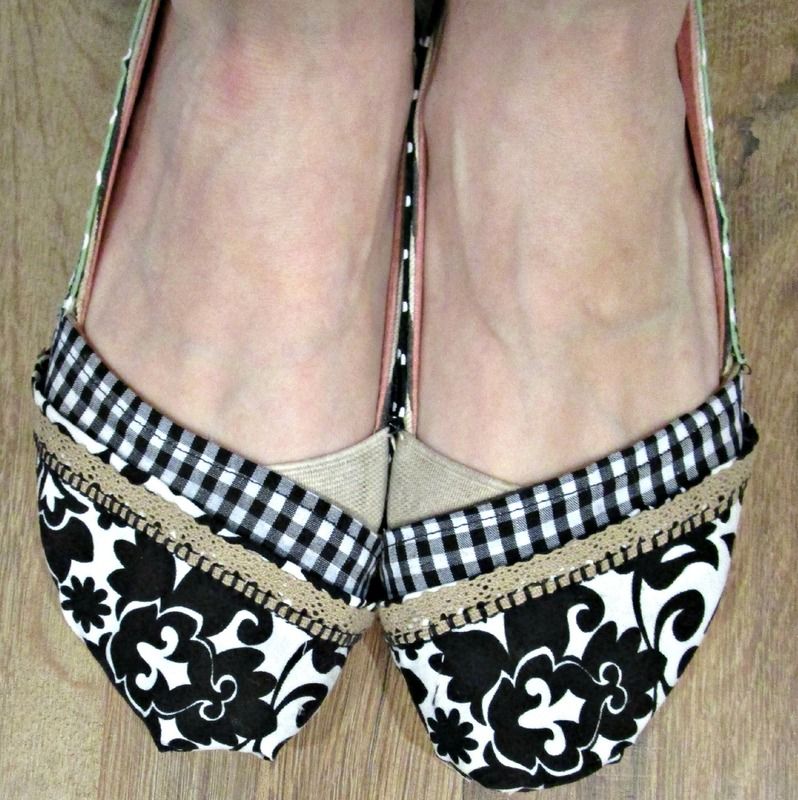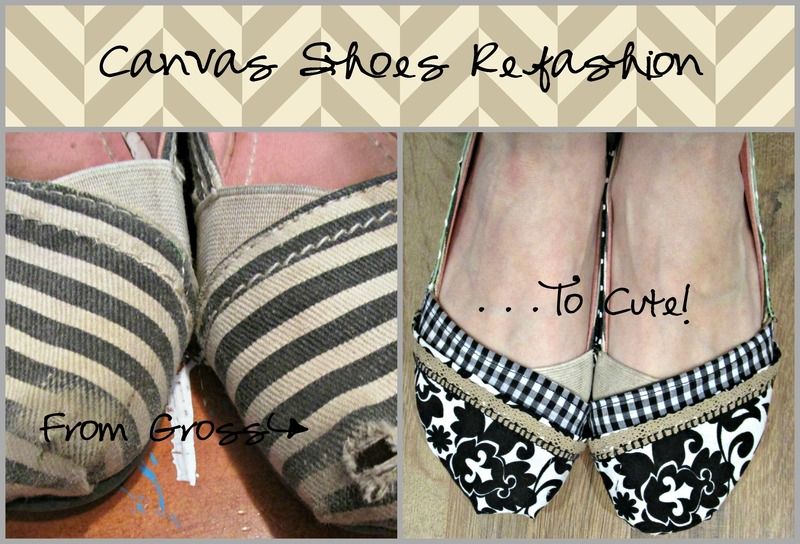 Well, there you have it folks...Project One down, only 4 more to go!
Blessings,
April