You know the part of the Nativity story that has always struck me? The part about Mary and Joseph coming to Jerusalem and being unable to find a place to stay for the night. (I know it's May and not December...please just bear with me.) I mean, ignore the part about her carrying the Son of God. Obviously, it took people a long time to catch on to that little detail. I mean, we're still catching up.
But here she is, IN LABOR and no one can be bothered to make room for her. I wonder why not even one innkeeper thought to say, "You know what? Take MY bed. I can sleep on the floor this one night while you give birth." Maybe it's because I find myself so drawn to hospitality, to the act of opening my home, heart and table, but that's always bugged me.
When we made this move to Kansas City, we knew we would need a guest room. For the first time in our married lives, we would live far enough away from family that visits would necessitate overnight stays. No more popping in to say hello or coming by for dinner and then heading home. Moving would mean multiple visits per year from many different family members and friends. I actually couldn't be more thrilled about the prospect of hosting long, lazy weekends with the people I love.
This is the week we begin, in earnest, to create a guest sanctuary. For months I've been collecting ideas and considering what needs to be included in this guest space. And I finally have a plan. My parents are coming for a long visit at the beginning of June and I want the room to be ready by then. That gives me three weeks, so I better get busy!
The photos in this post are some of my favorite bedrooms from around the web. I love how welcoming they are, how the designer thought intuitively about what guests might need. Wouldn't you love to spend a night in one of those cozy looking beds?
I'm using this color scheme. The walls throughout our home are painted a lovely shade of grey (not quite this shade, but this is just for my inspiration.) :) I have several fun craft and building projects planned to add character and warmth to the room and I can't wait to share the finished product with you here. But more importantly, I can't wait for my Mom and Dad to settle in and enjoy it in just a few short weeks.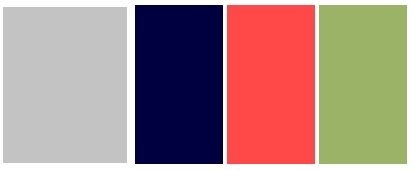 Color Scheme: Grey walls, with Navy, Coral and Sage Green accents
Working on the plan for this room brings me back to this blog's name. It reminds me that everything is sacred when committed to the Lord.
This isn't just a decorating project to me, it's preparing for the sacred work of opening my home, heart and table to those who need me.
It's not just a guest room, it's a room devoted to
the Lord's work
of providing for the physical needs of the people he's placed in my life.
Blessings,
April