A few weeks ago, we found a GREAT yard sale. The kind where the prices are so great that you end up just making a pile and having your husband stand guard. ;) On the way to the checkout, Michael said, "Did you see those chairs?" Well, NO I didn't, thankyouverymuch for pointing those out! We came home with several decor items, a push reel mower and THREE upholstered chairs. Score!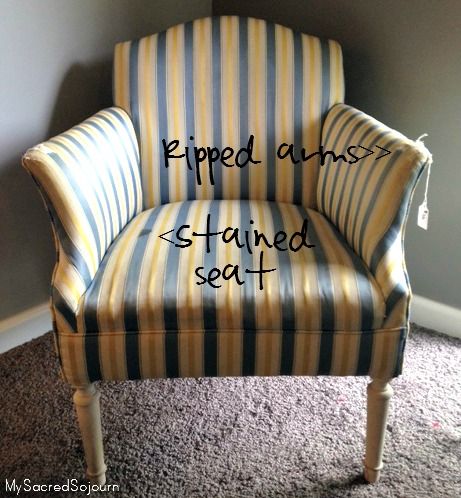 I paid $10 for this chair. While my sister-in-law was here, she helped me reupholster it. Our first stop was Joann Fabric & Crafts for supplies. I paid $52 for fabric, staples, trim and the staple remover pictured below. I bought 5 yards of 44" wide upholstery fabric ($6.99 per yard) and had over a yard leftover to make throw pillows for the sofa. :)
Late night Instagram photo...we pulled staples for over 2 hours the first night and both woke up with sore wrists. Take breaks!!
This is not a tutorial on how to reupholster a chair. There are a bunch of other sites that are way better at explaining that than I can. I just wanted to share pics of the process and a few tips, in case you attempt this on your own.
You need the right tools. Invest a few dollars in one of these staple removers. It was only $10 and worth every penny and more! If you have an electric stapler, that would be awesome too. I used an "easy tacker" which was way easier than the big, heavy silver staple guns. (Not affiliate links.)
Work in an area that's easy to clean. We laid a blanket on the floor of the living room and worked on that. This kept most of the dust and staples from getting into the carpet. (We had a cup to put staples in, but they still got everywhere.) It would've been better to work on it in our craft room where I could just sweep up the mess, though.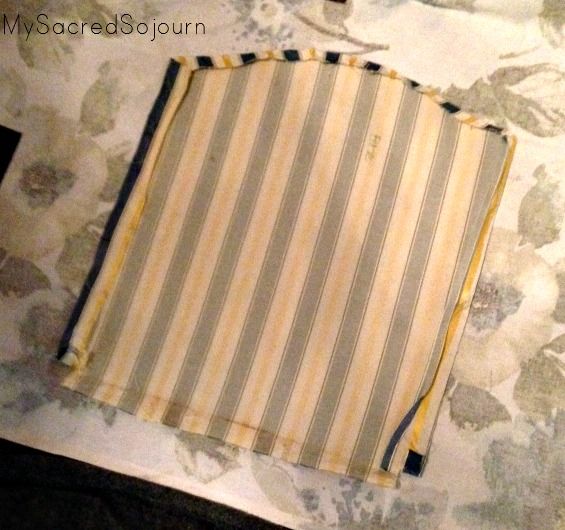 Take LOTS of pictures and notes. When everything is disassembled, you will NOT remember how it was put together. Ask me how I know. ;) You'll need to look back at these to what order pieces were attached and how seams were hidden.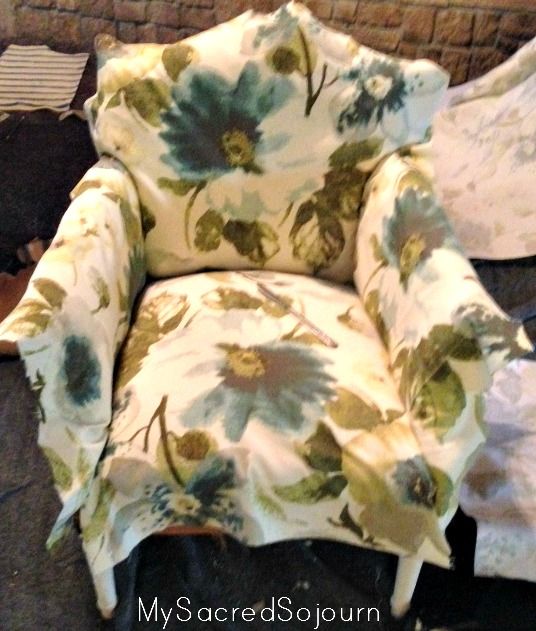 I called this "dry fitting" the fabric. We pushed and pulled it into place before stapling anything. This is the most accurate photo of the fabric's colors.
Label all your pieces really well. When you pull the fabric off, you use it to as a pattern for your new fabric. Label the back of the old fabric pattern with EXACTLY where it was: Inside Right Arm, Outside Left Arm, Bottom Front Trim, etc. Also label the directions with arrows for directionality.

I'm so glad my sister-in-law was here to help me because I might have given up about halfway through. I don't think it was necessarily hard to do, but was just really tedious. Removing all the staples and fabric layers took quite awhile. In total, it took 7 hours of working together to finish this.
I'm so happy with how this chair turned out! I love the fabric. It took Jess and I quite awhile to find a fabric that I loved and that matched my frugal budget (I didn't want to spend more than $10 per yard.) But I love what we chose and will use this chair for a long time. Plus, it's super comfy!! Perfect for a morning cup of tea, my journal and time with the Lord. Bring it on!
Have you done an upholstery project before? I'd love to hear your tips or suggestions!
Blessings,
April

PS: I'm linking up to: