My, what a crazy few weeks we've had! How is it that May is over halfway through??? Where did the time go? Oh yeah...I'm about to tell you. ;)
The first weekend of May Mom and I attended my new church's women's conference and it was amazing!! I loved every moment of it. I have a ton of things to share with you about what the Lord spoke to me through that event. I'm still trying to process it all and get it in a format that makes any sense whatsoever. I was so focused on the event that I didn't get any pictures from that weekend. But it's imprinted on my heart!
After the conference, the girls and I went back to Oklahoma with my Mom and brother to visit for a week. We tried to just enjoy the visit and leave time for lots of fun!
We went to the park by the lake and enjoyed seeing this little goose family and playing in the sunshine.
We had a play date with friends and our girls are now begging for a power wheels car. ;) Thank you P, for sharing your toys so nicely!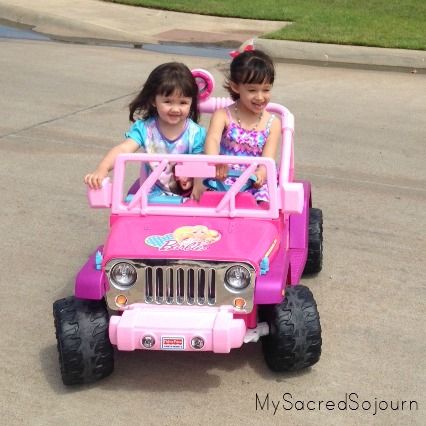 While at Mom's, I received a special package in the mail. My husband had a gift set of bulbs sent! Instead of Mother's Day cut flowers, he decided to try something new. Well, the verdict is in and I LOVE this!! I'm wondering if I can plant these outside after they bloom. The instructions that were included don't say. Any suggestions?
We got back home on Saturday night before Mother's Day and just a few days later, my sister-in-law Jess arrived for a visit. While here, she helped me reupholster a chair (my first reupholstery experience...I probably won't repeat this project again.) ;) But I love the way it came out! I'll share more about this project in another post.

And there were a lot of other visits and fun things that filled our time too. Maybe too much fun actually, as now I'm in bed on Day Three of a sinus infection or head cold. :( But I feel it clearing up and hopefully, I'll be back up and running in no time. Good thing too, because I've got too much planned for this spring to be stuck in bed! ;)
What have you been up to? What are your spring plans?
Blessings,
April