I am oh so grateful for my husband. That man is a saint. Of the two of us, I'm the messy creative, the one with a million ideas and a craving for beauty. He's the engineer, the one who likes to have a plan and to do things in a certain order. So, when I come up with these crazy ideas, he usually goes along with it, but helps me figure out the HOW to my WHAT. We're a good team. :)
Enter this project, stage right. Our old solid wood headboard was waiting to be sold in our upcoming yard sale. I pulled it out, measured it and discovered it would fit perfectly into an awkward corner of our living room. So, I enlisted Michael's help and we got to work. Together, we sketched out a plan and started building. First step was building the bench frame using 2x4s. They're strong and inexpensive. I think we used 9 or 10 for the frame.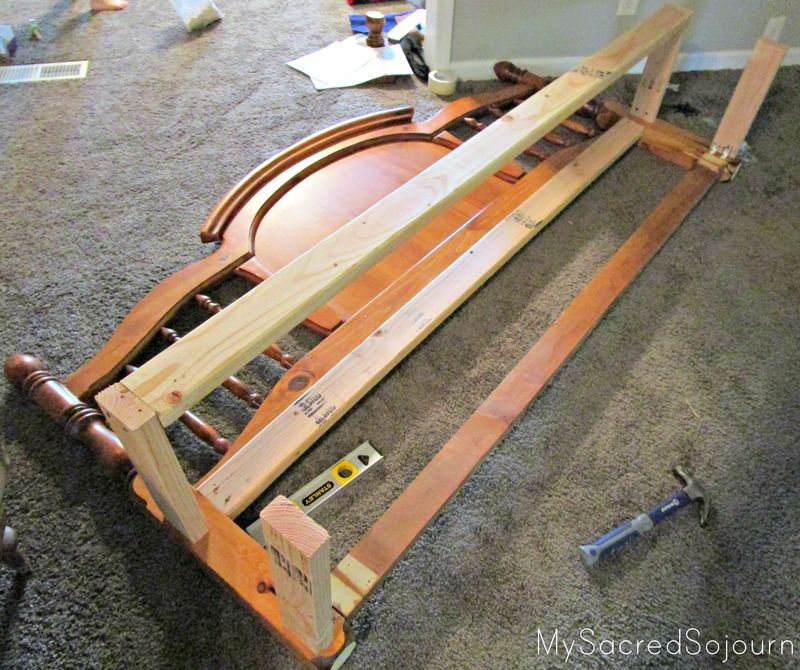 We decided to go with a slightly different top. Instead of using 3-2x6 boards, we chose to use different widths to create a more modern effect. There are 2-2x6 boards, a 2x4 board an 2-1x2 boards, turned on their sides.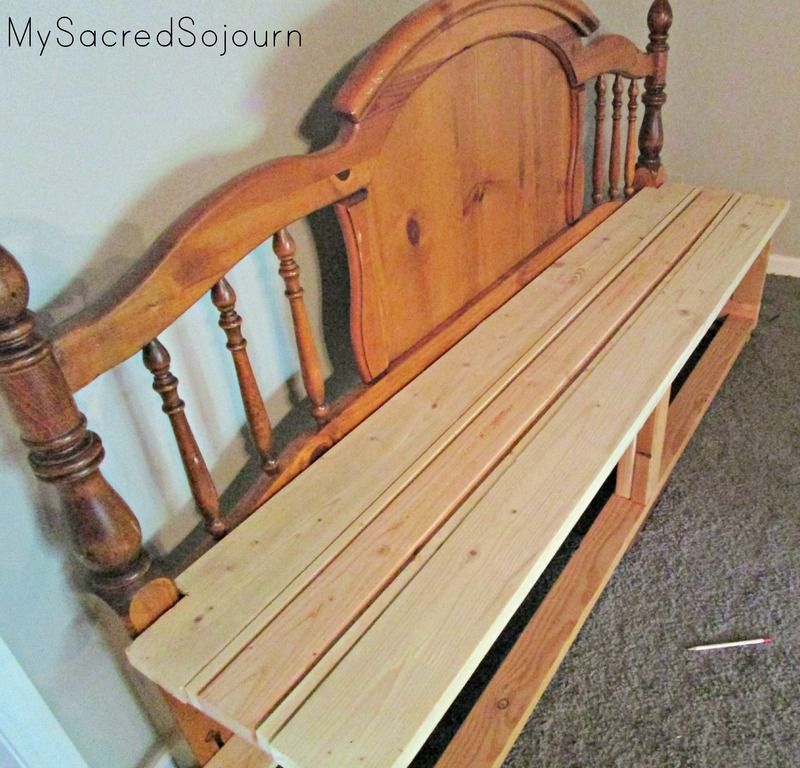 Once the frame was finished, I started painting. I used Folk Art Chalk Paint in Provincial. I expected it to be a dark greyish blue based on the lid. It was MUCH more vivid in person, but I kept going, hoping it would tone down as it dried.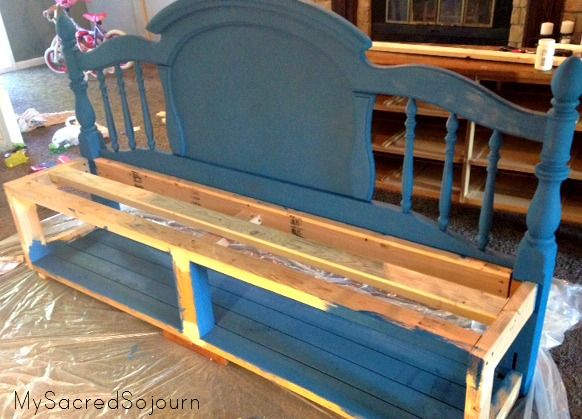 Guess what...it didn't. So, I applied the dark antiquing wax which helped, but then the flat middle section looked terrible and it didn't really work like the directions said. Buffing it was impossible. :( This is me, having a meltdown when this gigantic paint project started going downhill. Miss A wanted to document the moment. ;)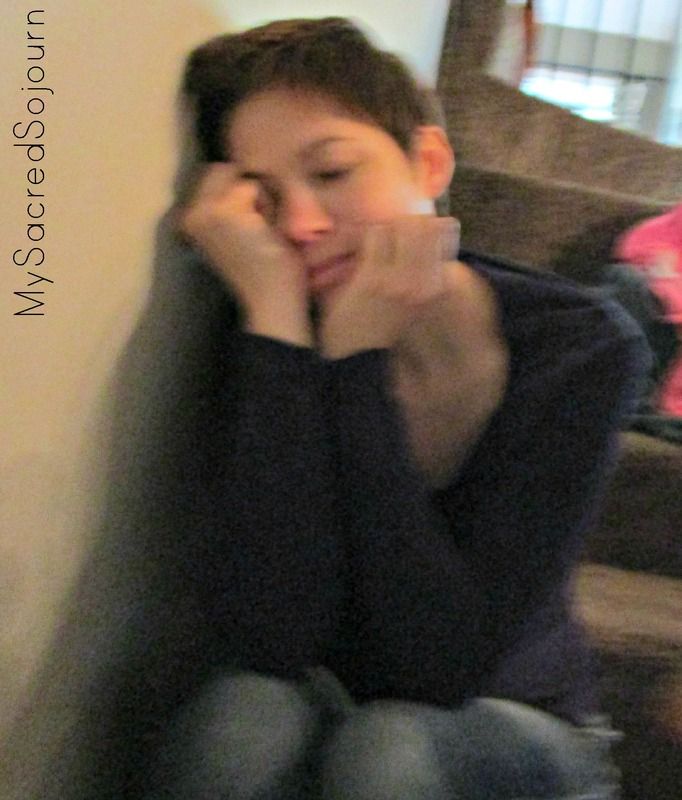 Once again, Michael swooped in and saved the day. He suggested just painting over the middle section with some dark grey paint we had to cover the ugly middle section. I'm thinking about putting our monogram or a stencil or something on there. Any suggestions?
The basket on top holds keys, pocket change, etc. It was easier to put a basket than get Michael to put that stuff somewhere else. ;) Our coat closet is right across from this bench, so this is the perfect spot for putting on shoes or a jacket. The bench gave this awkward corner purpose and functionality!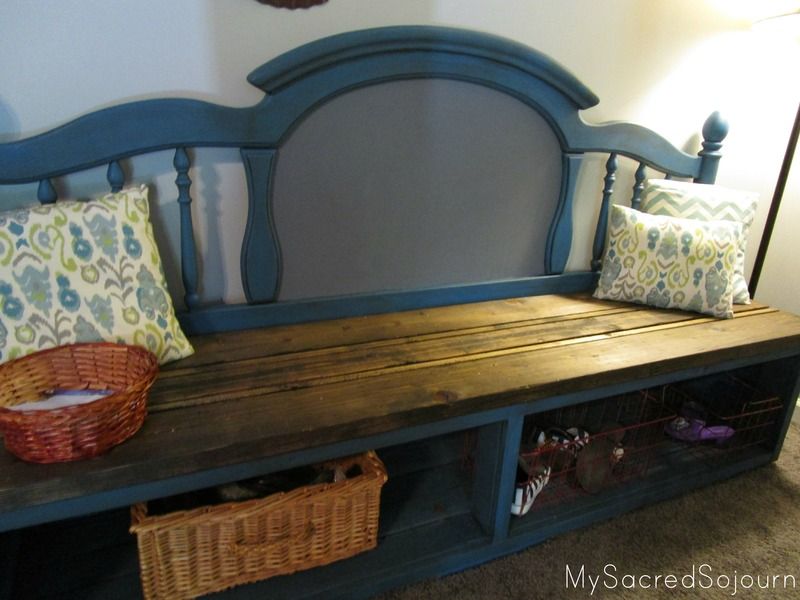 We designed the bottom to fit six of these wooden crates from Joanns. I'm planning to stain them to match the seat and they'll hold shoes, gloves, hats, etc. For now I have random baskets from around the house. I like that the crates will hide everything better than the wire baskets. And I found some cute metal chalkboard tags to use. Each family member will have their own crate, plus two extra for guests or future kids. ;)
Oh my goodness, I love this bench! It's exactly as I pictured in my head (minus the weird paint snafu) and it proved, once again, what a gem of a husband I have.
Blessings,
April