We kicked off our homeschool adventure last week! I had originally planned to start the first week of August, but after a tour at the homeschool academy/coop we've joined, Aleah (age 5) was too excited to wait, so we dove right in! Well, I guess a more accurate depiction would be that we put our feet in the water. :) We didn't break out the
My Father's World curriculum
, but we did work through some math, reading, and language arts activities and tried to see what routine might work best.
Here are some glimpses into Aleah's activities.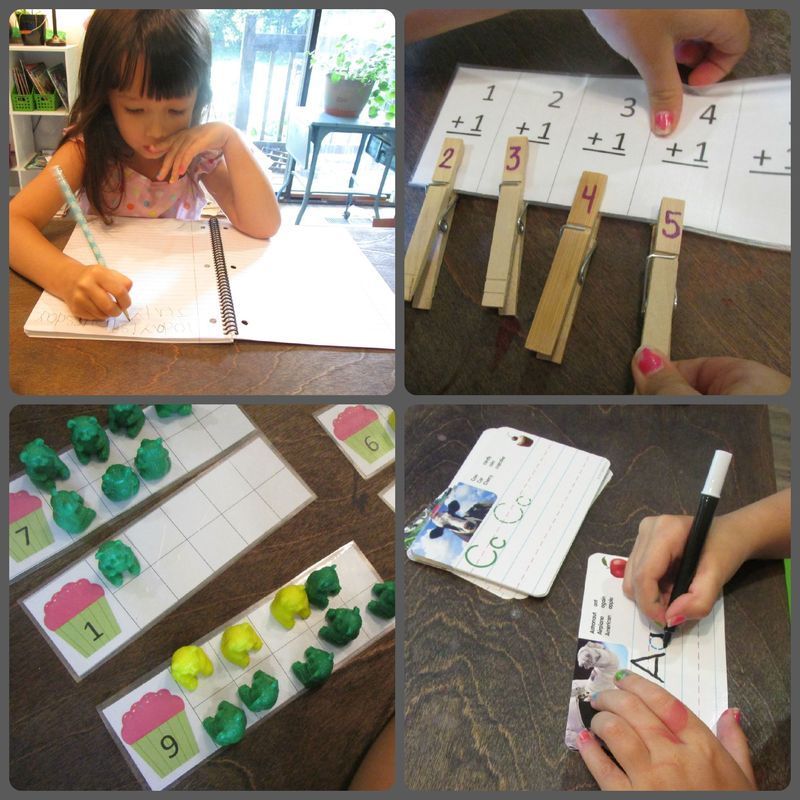 From top left, clockwise:
Morning calendar journaling (writes the date from the board)
Clothespin addition activity
Handwriting practice with Target dollar spot laminated cards
Counting bears on ten frames
Gracie (age 3) didn't want to be left out of the equation, so I've set up a set of activities (sometimes called "
tot trays
"). What I didn't anticipate was that both girls would want to explore the trays. After the first day, I realized this makes a great transition into school time for Aleah. It only took one morning for them to get the hang of how it works (take a tray, work the activity, put it back on the shelf.)
Here are a few activities Gracie worked on this week.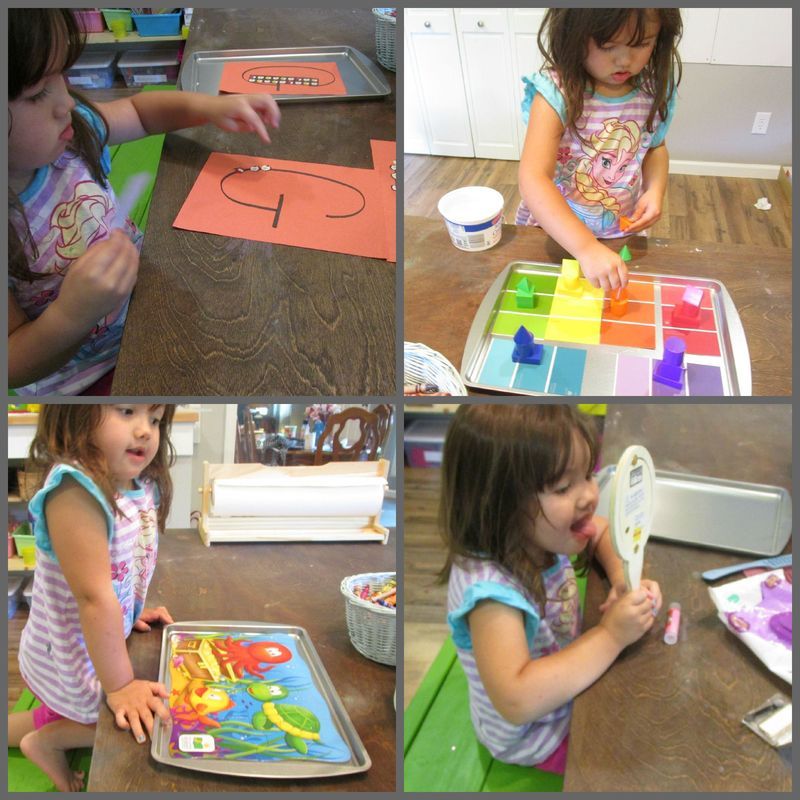 From top left, clockwise:
Putting small stickers on her first letter (great fine motor activity!);
color matching (3D shapes and paint chips from Lowe's);
self-care tray with mirror, baby wipes, chap stick, and comb;
8-piece puzzle
On the second day, the girls asked why the tray activities were still the same. Um...I hadn't planned on changing the tray activities every day. :/ Luckily, the night before, I had a few ideas and quickly switched out two of the trays for these. Gracie is a little young to be able to match the letters, but she enjoyed stacking the plastic Scrabble tiles and the fine motor challenge of the golf tees.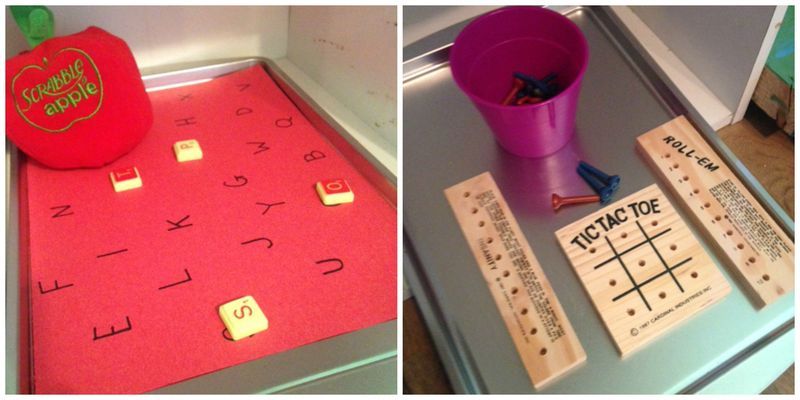 I found a ziploc bag with 5 of the golf tee games and tees for $2 at the thrift store the night before. Perfect timing!
Our goal with this move to KC was to be able to increase our income and save money so we can get out of debt. One way I saved on homeschool materials was to buy cheap dollar store cookie sheets instead of more expensive plastic food trays online. The ones I priced on various sites (Amazon, Oriental Trading and a couple of others) ranged from $12-25 per set (at least $2 per tray) and didn't have great quality ratings. I paid just $6 for 6 trays and they're pretty sturdy, but lightweight enough for Gracie to easily carry. Plus, I can set up some magnet activities I have planned.
Our trays are on the bottom two shelves of a 9-cube unit from Target. Looks like one was being explored!
So, that was our first few days of homeschooling! I learned a few things (for instance, the girls need more challenging things than I'd originally thought!) but I'm pleased with how it went. Our goals for this week include:
Develop a mission statement for our classroom and motto for the year to keep us motivated
Settle into our new routine
Begin the new curriculum
Thanks for reading along! If you homeschool, do you have any suggestions for this newbie?
Blessings,
April