I announced
in this post
that we have decided to homeschool our five-year old this year for kindergarten. Once the decision was made, I dove head first into researching learning styles, homeschooling approaches and curriculum. After what I
felt
was really extensive research, I ordered
My Father's World kindergarten curriculum
.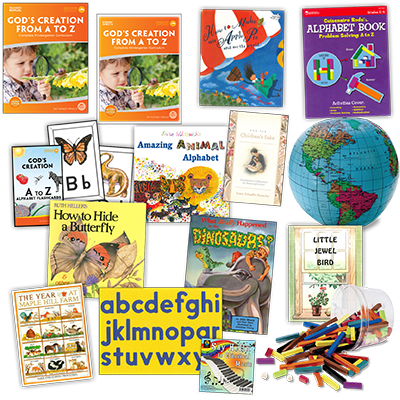 I wish I could say I'm thrilled with my purchase, but I really wish I had sent it back, before cutting apart the cards and unwrapping things. I didn't realize it's written from a "young earth" perspective (not something my husband and I embrace) until I really started reading it. I'll make adjustments as we go.
On the whole, it seems really superficial. It feels like it's "a mile wide and an inch deep." (I have heard that other families also dislike the MFW kindergarten curriculum, but end up loving the later years.) I intend to "beef it up" with high quality children's literature, non-fiction books and plenty of field trips.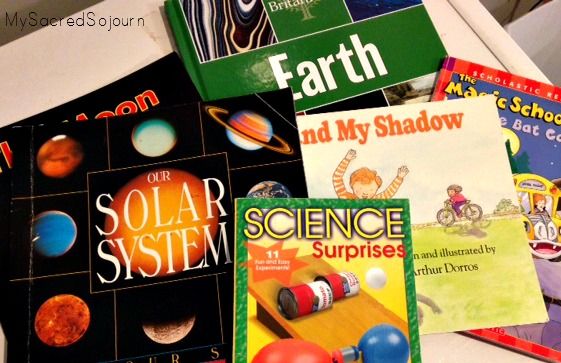 Science books purchased at a thrift store for just 50 cents each! :)
I firmly believe that kids benefit from having extensive time for free play, so our day will still include a lot of that. We also own a lot of games, manipulatives and educational toys (most purchased very inexpensively at yard sales and thrift stores!) I plan to work those into our learning time as much as possible.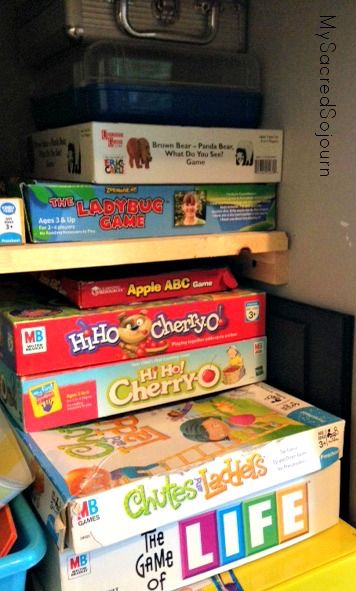 Games are such a fun way to learn. Most of these are from yard sales.
I know my 3-year old will be disappointed if she isn't included in our homeschool day. I spent the last few weeks creating a list of activities that go along with each unit theme that are specifically for Gigi (age 3). I plan to have six
trays
(like those linked here), each with its own activity, on a bookshelf in our learning room, much like the one pictured below.
For all my plans, I know I absolutely cannot do this apart from Christ. I rely on him to give me wisdom, strength and patience to parent my children and even more so as we embark in "formal" education. Please know that I don't intend to turn this into a homeschooling blog, but I would like to share a few posts a month about how this part of our journey is going. I can't wait to see how the Lord works in our hearts, teaches us new things and brings us closer as a family.
Blessings,
April