On
Monday
I shared that in September we're going to begin using
Godly Play
principals. I'm planning to use the lessons as outlined in
Young Children and Worship
. If you aren't familiar with this, there are numerous resources online, including many YouTube videos depicting the storytelling or discussing the methods.

I love the simplicity and beauty of the materials, the solemnity and sacredness of the storytelling. Godly Play gives dignity back to children and honors that they are able to connect with God, often better than adults! Rather than teaching down to them, or assuming that they don't want to hear Bible stories unless they're presented in a video or with high energy antics, it lets the Word speak for itself. There's something so beautiful, humble, and approachable about that philosophy.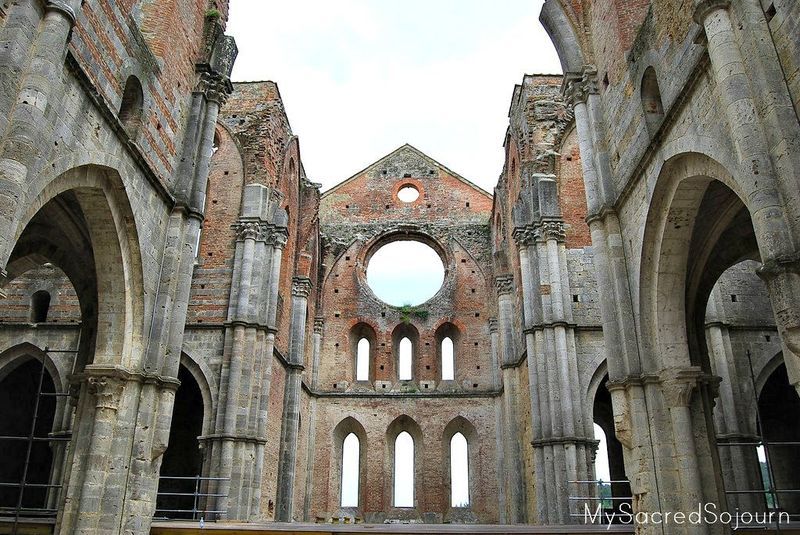 An old church I visited in Italy
I was not raised in a liturgical church, in fact, it was far from it. As an adult, when I began reading about the Church Year and liturgy, I fell in love. However, the church home we've found here in Kansas City is not liturgical, either. I wondered how I could bring more observation of the Church Year into our home (aside from our yearly observance of Advent.) Seeing Young Children and Worship in action suddenly made the pieces come together.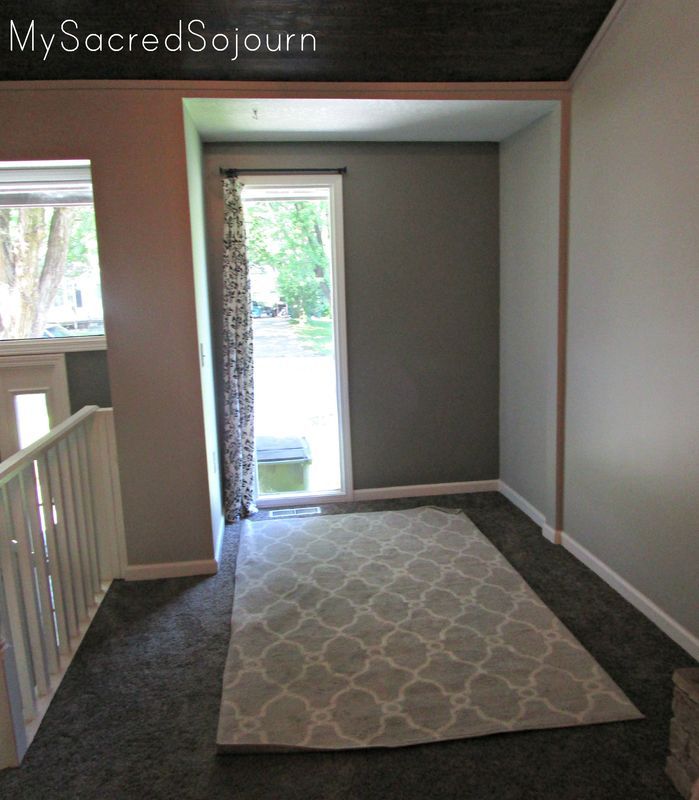 When done in a church, you would set up an entire room as a Worship Center. In the home, it has to be done a little differently. We have a corner of our front room that has been empty for most of the 6 months we've lived here. It's kind of an awkward area for large furniture placement, but will hold a few small shelves perfectly. This is the space as it is now, seen above and below: an empty blank slate with loads of natural light..

The first thing we need is shelving. My husband is going to build two shelves, based on the
an Ana White plan
seen below, to hold our stories. We plan to stain them to match the other woodwork in our home. If I have figured correctly, they should cost about $50 in materials.
I am currently researching different ways to make a Church Calendar to hang on the small wall to the left of the window. Both of the calendars pictured below are interactive and can be handmade so I'm looking to these for inspiration. You can
purchase wooden ones here
, but they're cost prohibitive for us at this time.
Another detail I'd like to add is a small standing cross so that we can drape it with the liturgical colors for each season (purple for Advent, Green for Growing/Ordinary Time, Red for Pentecost, etc.) I haven't decided if I'll attempt to make it myself, or order one of these beautiful crosses from Colors of Faith.
I found remnants of green felt and white satin for our first two stories (The Light and The Good Shepherd.) I also found two small cream colored rugs to use for "work time", a small white pillar candle and tea light candles at the Dollar Store. The tray is from the thrift store. I've only found 1 so far, but I'll keep searching.
I'm still trying to decide what we'll do about all the wooden people and animal figurines you need to tell the stories. Neither my husband or I have the ability or patience to cut them out with a jig saw and they're so expensive to purchase pre-made figures. I'm considering something like this to get us started.
That's our plan for this space. My daughter would also like to add a CD player with quiet, peaceful worship music. I haven't decided yet if I want to do that. We're going to work on getting this area ready over the next two weeks so that we can begin our first stories in September. I'll share photos of the finished space then.
Have you ever heard of Godly Play or Young Children and Worship?