If you're visiting from the
Tot School Gathering Place
, welcome! My husband and I have two little girls, ages 3 and 5. We are beginning our Tot school AND homeschool journey this year.
~ ~ ~ ~ ~ ~
How are you, friends? Is it hot where you live? The last week or so the temps dropped to the upper eighties, but the humidity here is brutal. It's been hard to stay hydrated and the plants are suffering. Luckily for us, that meant we found this hibiscus "tree" for just $10 on clearance at our local garden center. It's adding a bright pop of color, just outside the homeschool room. The indoor plants are (amazingly) surviving with me as their caretaker. Let's see if I can keep it up!
I completely forgot to take pictures of our trays last week! So sorry! But I did manage to grab pics of one of the trays in use. This was a napkin folding tray, based on the idea of Montessori practical life trays. I made the little instruction card, but figured the kids would need help deciphering what to do. I was wrong and even our three-year old had no trouble with this.
In my attempts to be a better blogger, I'm posting a preview of the trays we're working with this week. We now have eight trays on our shelf and I love seeing how the girls are progressing through them. I also love that my husband is getting involved and coming up with tray ideas! Our unit this week is about the moon (because my kindergartner is VERY interested in space right now) but I don't try to make our trays revolve around the unit theme.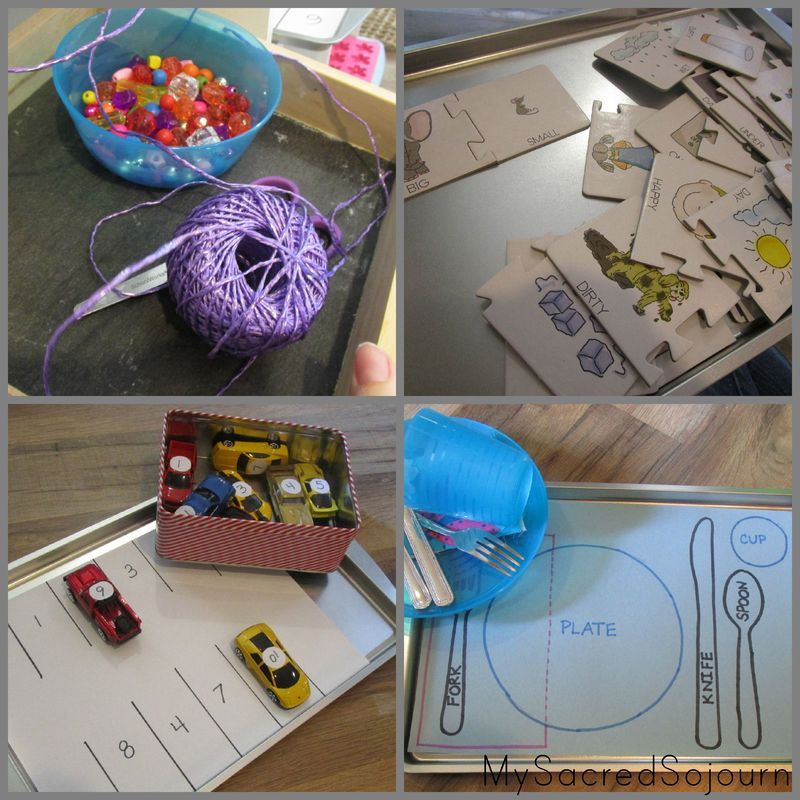 From Top left: Beading on twine; Opposites puzzles (purchased at consignment sale; does not have brand listed); Place setting tray (I traced the shapes of our stuff instead of buying a printed mat); Parking space/car number matching
From top left: Discovery Toys, Inc. Fashion plates (apparently discontinued; I purchased this at a consignment sale, but have seen on eBay); Weaving loom and bands (from Hobby Lobby on clearance); Marbles and silicon molds (for one-to-one correspondence and fine motor activity); Stephen Joseph Lacing cards
This weekend while out shopping, we found this awesome Melissa and Doug pattern block set. The girls have already had a lot of fun playing with it and identifying shapes, but this week we'll use the blocks for making patterns and graphing.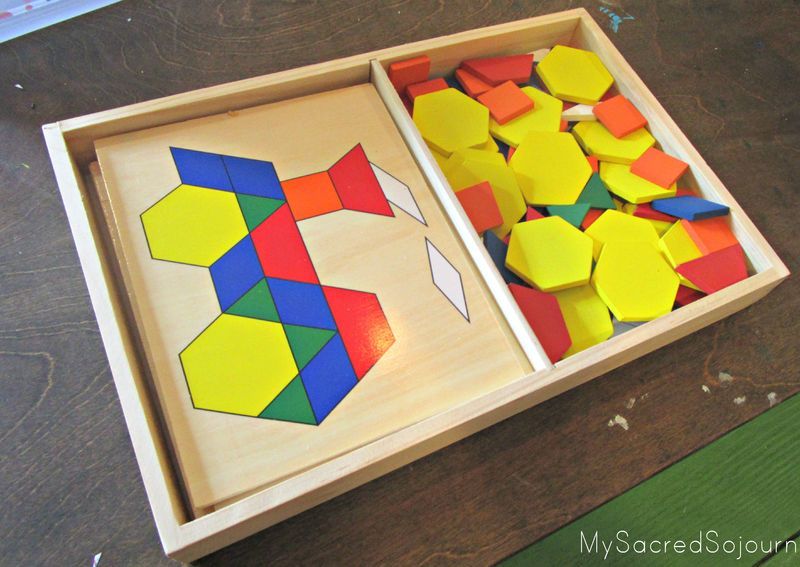 Last night I took a few minutes to mix up "cloud dough" for a sensory experience this week. It's just 8 cups of flour, 1 cup of baby oil and a bunch of gold and silver glitter. I added a set of Dollar tree measuring cups and measuring spoons, some tinfoil "meteors" and plastic stars (to go with our space theme.)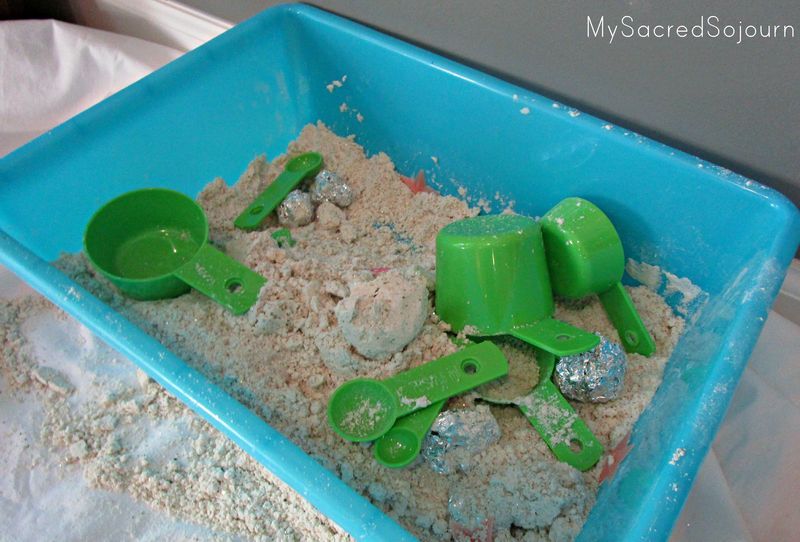 After trying to use it for a few weeks, I've decided to ditch My Father's World. I kept trying to make it work, but I just don't care for it, and it's not challenging enough for my kindergartner. For the time being, I'm piecing together my own curriculum and it's working well for us. If that changes, I'm open to finding another curriculum to try. I keep telling myself that the key to our success will be flexibility.
That's our plan for the week...what's going on in your world?
Blessings,
April