Dear Friend,
"I like to start my notes to you as if we're already in the middle of a conversation..."
It's much easier that way, don't you think? And so, that's what we'll do today. It's coming on fall and I always feel the need to watch You've Got Mail as the days get cooler (that hasn't happened here yet, but I'm hopeful.) I have an unexplained urge to go to Starbucks so I can get an absolutely defining sense of self. "Tall! Decaf! Cappuccino!"
Our trip to Oklahoma last week was wonderful. It was just what we all needed, uninterrupted time with the people we love most. My Mom and my brother's fiancee entered several things in the county fair and I think all of their entries placed. It was quite a bit of fun to look at the exhibits and see the colorful ribbons hanging on their entries.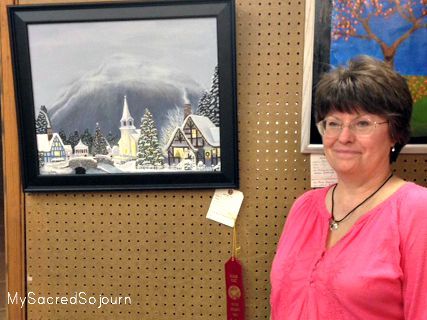 My beautiful Mama and her beautiful painting
I've been drinking a lot of tea. I feel the need for it, in the way I feel the need for sunshine and a warm cookie and...well, maybe I'm just cold a lot lately? But you and I both know that I need to feed my soul and sometimes a cup of tea does just that. I bought 3 4 new varieties last week and after trying to fit it all on my tea shelf in the pantry, I think I need an intervention. Send reinforcements more tea. I'll make room for it, I promise.
If you're in the market for some personalized jewelry or a gift, I HIGHLY recommend
Custom This, That and The Other.
My daughter found this lovely necklace and just had to have it to remind her of home. She has tons of other designs and hand stamps every piece. Each item is beautifully hand-crafted and I can attest to the quality. Support small business owners! :)
And this happened...I can't. I just can't even explain how it happened. But there was tripping and me sliding down a shelf and broken snow globes and I think I stepped on Baby Jesus' head when a nativity fell.
Well friends, I have to go be a productive adult now. Boo. Hope your day goes smoothly and you don't crush any babies underfoot.
Blessings,
April