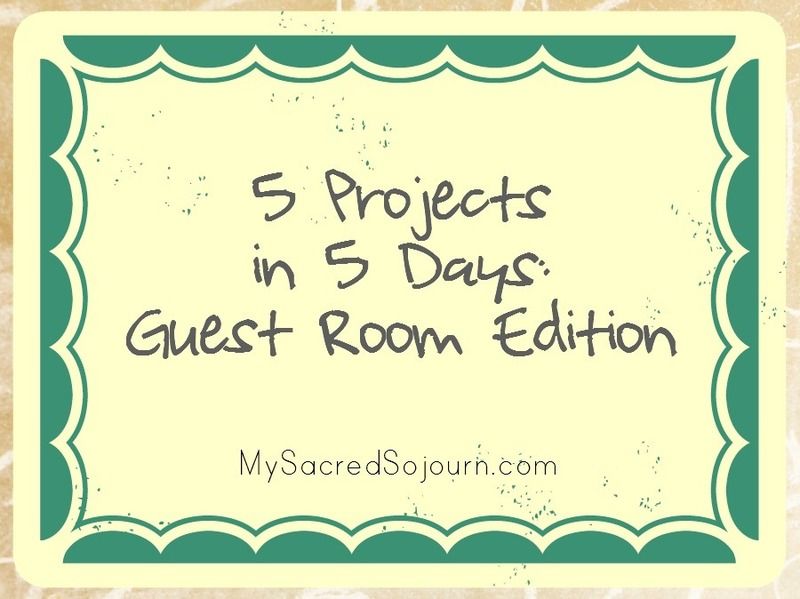 Last weekend, we had out-of-town guests coming for for a visit. I wanted to decorate the guest room, but I had a big problem. Our bank account was compromised. (Yikes!) Everything worked out with getting our money returned and getting a new account, but that meant while waiting for new debit cards to arrive in the mail, I could only use the cash I had. Which wasn't much.
I made this months ago with scrap wood from another project.
I was starting with the king size bed, grey duvet cover, grey pillowcases, two bedside tables with lamps. And the windows had blinds and a curtain rod. But other than that, it was a blank slate. And because home decor blogging isn't really my thing, I forgot to take a before pic. :/
Here's where being a
hoarder
crafter comes in handy. ;) I have a lot of stuff for creating. So, I was able to dig into my stash and come up with some creative solutions that cost next to nothing! Once I assessed what I already had, I hit the stores. I couldn't find fabric that worked with my cash-only budget at the craft stores. But I was so blessed to find a beautiful duvet cover, pillow shams and a set of sheets that coordinated! AND in my favorite colors!! And all for only $11!!!
The Projects
Project #1: An upholstered headboard.
This was the best example of using what you have. I upholstered an old hollow core door with the patterned fabric from the duvet cover, some quilt batting from my stash, staples and a staple gun. (I realize you probably don't have a hollow core door laying around. But I did. Use what you got, Baby.)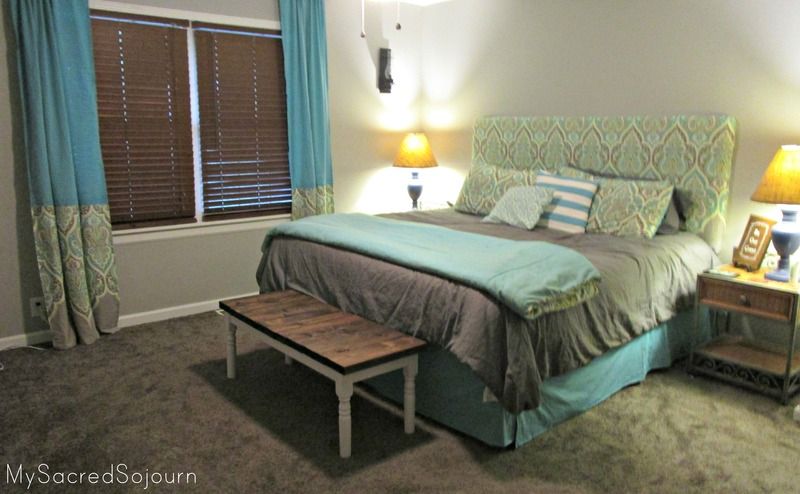 Project #2: Bed skirt. The back side of the duvet cover was solid teal. I cut 3 wide pieces, hemmed the edges and tucked them under the mattress for a quick and easy bed skirt.
Project #3: Curtains. I used the last bit of patterned fabric from the duvet cover and the full size bed sheet (cut in half) to make curtain panels.
Project #4: Pillows.
The duvet came with matching shams so I added those to the bed. I pulled some coordinating fabrics from my stash to sew covers for extra throw pillows I pulled from around the house. I still have the fitted teal sheet and might make plain pillow cases, too.
I just realized one of the printed shams is upside down. This is why I'm not a home decor blogger! Haha!
My secret: I buy throw pillows from smoke-free, pet-free garage sales (we have allergies.) Then I sew covers for them. $2 for a pillow and half a yard of fabric is WAY cheaper than the $15+ for a new throw pillow at the home store.
Project #5: End-of-bed Bench.
In our previous house, we had used an old dining room table to make a sensory table for our kids. You can
see it HERE
. The kids weren't using it anymore, so I cut down the side apron pieces (to make it narrower) and shortened the legs. My husband has taken up woodworking and has a bunch of scrap pieces of wood. I found some 2x4 and 2x6 pieces and cut them down for the top. We already had paint and stain, so this cost us nothing out of pocket right now. Thrifty decorating for the win!
There are a few more projects I'd like to do for this room (artwork for the walls, recover or replace the lamp shades, etc.) But for now, I'm so happy with how it turned out and our guests enjoyed staying in this room. And that's what matters most!
Let this be an encouragement, friend. We can create welcoming spaces in our homes and we don't have to break the bank to do it. All it takes is a little creativity and time. I set out to be a good steward of our money AND create a guest retreat and I think I achieved that!
Blessings,
April