Hello, friends!
The weather has been so beautiful here the last few weeks. We're spending a ton of time outside (yea!!!) and really enjoying NOT being eaten by mosquitoes! ;) On our recent trip to Oklahoma we picked up several pumpkins at our favorite pumpkin patch, so our homeschool has exploded with pumpkin exploration!
I shared this collage
on Instagram
this week. If you're new here, my daughters are 3 and 5 years old. We started out on Monday by carefully observing some of our pumpkins and making a chart of what we know and some things we wonder about pumpkins. Aleah (age 5) said pumpkins are a fruit. I wonder if that's really true, so we've added that to our list. I've found my curiosity and wonder is growing through our explorations too!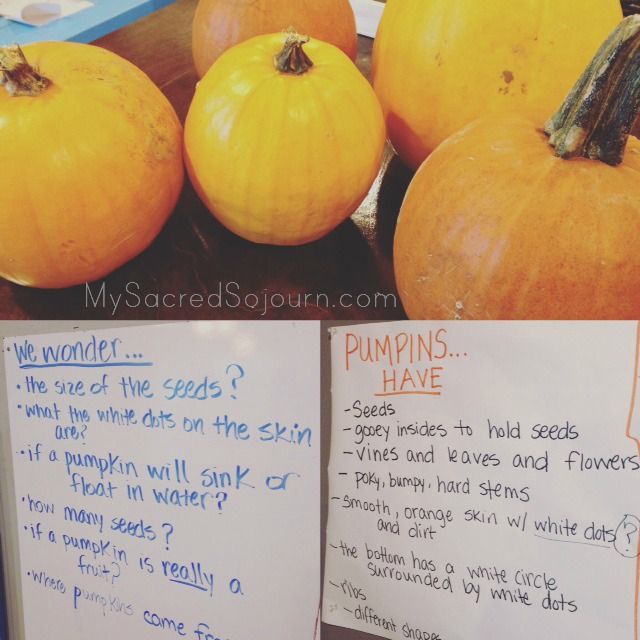 I have lots of activities that we'll do for this exploration. Here are just a few of the things I've planned (and there are a ton more on my list!) I've listed them by subject area, but really, I have found that each subject naturally ties in with the others.
Science
We're discussing the Life Cycle of pumpkins and comparing that to what we know about the life cycle of other plants. I found this great
Pumpkin Prediction Freebie
that we'll use when we cut into pumpkins tomorrow.
Math
We're using pumpkin seeds and mini pumpkin erasers for a variety of counting activities and doing more practice with 10-frames.
Reading/Language Arts
We're continuing to work through
Teach Your Child to Read in 100 Easy Lessons.
(I'm still not sold on this, but I'm going to give it another couple of weeks.) We're also going to start working on some sight words. And of course, as we explore the subject of pumpkins, the girls are developing new vocabulary: germination, pulp, harvest, tendrils, etc.
Aleah (age 5) knows the "5 Little Pumpkins" finger play, so now we're teaching it to Gracie (age 3). I think there are some variations to it, but this is the one we learned at preschool last year. If I can get the girls to agree, we might put together a little video of it for you.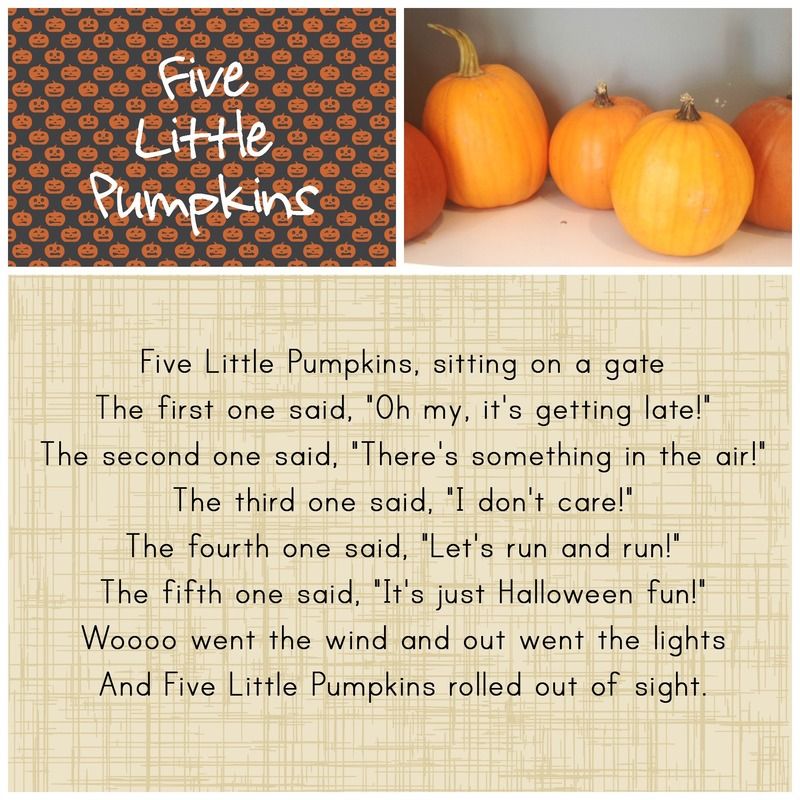 Art
Continuing with "5 Little Pumpkins", the girls made these mixed media pieces yesterday. We used the
Pumpkin Puffy Paint
recipe from Growing a Jeweled Rose. It was just a quick project before afternoon rest time, so I cut the mouths, noses and eyes, but you could have your kids do that part too.
We're planning to go on a Nature Walk to collect a variety of natural findings to use in art this week and to create a Nature Journal. We're going to paint leaves and do leaf rubbings at some point. I'm going to introduce weaving this week, and have planned for the girls to weave place mats which I will then laminate. And I really want us to build a large loom for our backyard, if they show enough interest. (You can find tons of ideas
on this Pinterest board.
)
Sensory Bin
This week's sensory bin isn't that great. ;) I was trying to figure out something to put in there and I didn't have much in the house to work with, so added dry oatmeal mixed with fall spices (cinnamon, cloves, nutmeg, and ginger.) It's really messy (which is fine), but hasn't kept Gracie's attention (not fine.). I'll change it out soon.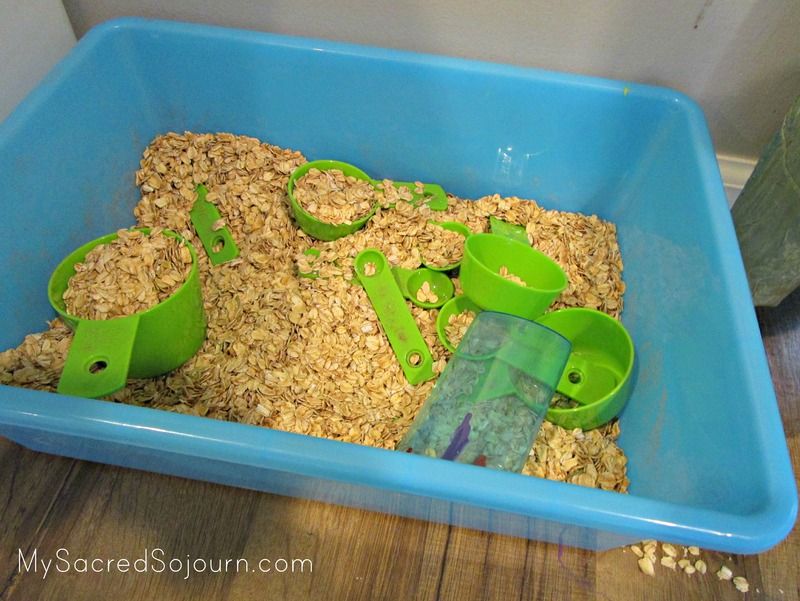 From Top Left, clockwise:
1) Pumpkin clipart matching- lame...a one-hit wonder, so I'll change this one up today.
2) Pumpkin Collage- good fine motor for our 3-year old; she's working on her 4th one now!
3) Size Sequencing: I simply resized one clipart image 5 times. There is a pumpkin, leaf and apple.
4) Thumb Tack "Drawing": poke holes through the outline of the pumpkin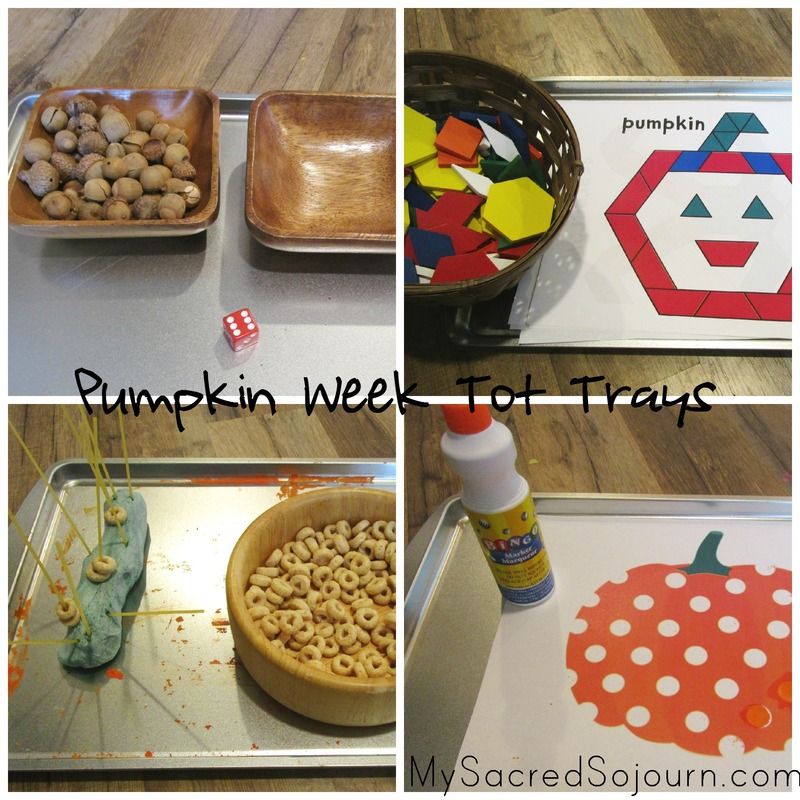 From Top Left, Clockwise:
1) Acorn Transferring: Roll dice, transfer that many acorns to the empty bowl. We also added another empty bowl and made it a game.
2) Fall Pattern Block pages: My husband printed these from somewhere online...sorry, I can't give credit, not sure where he found them!
3) Do-A-Dot Pumpkins. We use Dollar Tree Bingo dobbers.
4) Spaghetti & Cheerios Fine Motor Activity
So, that's what we're working on for the next few weeks! We're having so much fun with this and I feel a renewed excitement about learning at home. The gorgeous weather definitely plays a role in that! If you want to keep up on our learning day-to-day, make sure to follow me
on Instagram
. In the meantime, have you explored pumpkins with your kiddos? What are your favorite activities?
Blessings,
April