I have had it in my heart to share more details about my journey through anxiety, but couldn't work up the courage to do so for fear of offending anyone. Please hear me very clearly. This is MY story. This is not a step-by-step get well program, nor am I suggesting that what worked for me will work the same way for you. I don't believe in formulas for freedom and wellness. I'm also not a medical professional; if you feel that you are depressed or suffer from anxiety, please

get help.

I hope you'll read this with an open mind and heart. And I pray that you'll find encouragement and hope through these posts.
If you're just joining me, you should start with: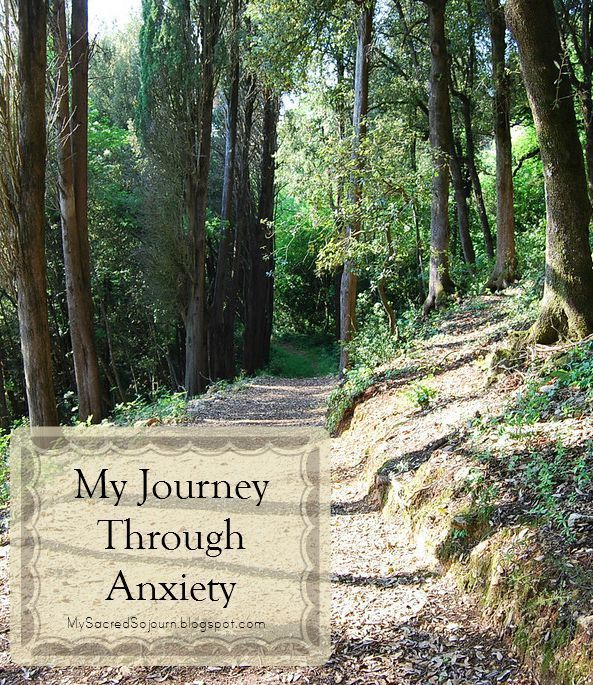 For me, Autumn has always been the time of year that I re-evaluate my life. I think about what things I need to embrace in this new season and what I need to let go of in order to move forward. I prepare my heart for the upcoming holiday season, and I take time to consider what I want the next year to look like. It's my personal "New Years." And as I've been working on this series, I've been particularly contemplative, thinking about how things have changed.

To sum up, I got the original diagnosis of anxiety disorder and depression in January 2014. After addressing the issues from every angle: physical and physiological, spiritual, and emotional. By September of 2014, the panic attacks had dropped from 7 or 8 per day to one per week or so. That's a major difference! And I could feel it. My joy was coming back. I was functioning at a much higher level than I had previously. In September, I took the last of my anti-anxiety medication. It wasn't until January that I realized I never had to refill it (the homeopathic remedies I mentioned in "The First Steps" replaced the need for the prescription.)
Later that fall, my husband was offered a position at a company in Kansas City and we decided he needed to take it. I firmly believe that had that same offer been made the year prior, we would have turned it down...I would have been unable to handle the stress of moving so far away from our support system. But I was getting better, so we made the move. When the New Year officially arrived,
I chose BRAVE as my One Little Word
for the year and used it as a motivation to continue toward wholeness.
So, where am I now? How far have I come? That's a question I've been asking myself and the Lord for a few weeks now. With the assistance of my new doctor, I was able to wean off the anti-depressant. The last panic attack I had was a few months ago, when I had a horrific nightmare. But during the waking hours, I've been attack-free for almost 4 months.
Every now and then, I feel anxiety trying to creep back in, but I simply go back to those tools I learned: I take those thoughts captive and lead them to the obedience of Christ. I break any agreements I've made with fear. And I double-check to see if I'm maintaining my physical health to support my body and mind (e.g. limiting caffeine, getting plenty of rest, eating healthy, and setting aside time for things that feed my soul
:
reading, meditation/prayer, making art, one-on-one time with friends, etc.) All in all, I'm miles from where I started at the beginning of 2014 and light years ahead of that little 7-year old girl crying in the driveway having her first panic attack. This may be something that I must be vigilant against for the rest of my life, but that doesn't mean I'm any less free or am bound by it any longer.
Although I've made a lot of changes to get free, let me be clear about this one thing: I would not be as free as I am today were it not for my loving Heavenly Father. He has walked me through every single day of this journey. He was the one working through my doctor to give a name to the invisible assailant, Anxiety. He was the one who prompted my friend to tell me about homeopathic remedies. He was the one who gave my husband and I direction on how to eat better and restructure our lives so that my wellness could be a priority. He was the one who gave my family and friends wisdom for how to be supportive when I needed it most.
Every good and precious gift comes from him
, the Father of Lights. He gets all the credit.
So, that's my story, my journey through anxiety. I hope what I've shared has shed light on this struggle and encouraged you. If you know someone who struggles with anxiety, I hope you might understand what it's like a bit more and be able to extend compassion and empathy. If you struggle with anxiety, I hope you can take away hope from this series; your path to freedom may be different, but it's there, hiding in the weeds. Ask Father God to show you where it is.
If you have any specific questions about my journey, please feel free to ask in the comments. I'm happy to share anything that might help you find freedom for yourself or someone you love. And, as always, I'll gladly lift you up in prayer.
Blessings,
April