Good Morning, friends! I hope you had a lovely Thanksgiving holiday. Our family was able to spend last week in Oklahoma with our loved ones and it was just what the doctor ordered. I feel rejuvenated, and ready to dive into the holy Advent season. It's a 5-hour drive to my parents' house, so I listened to a few podcasts and did a lot of thinking on the way and wanted to share a few nuggets with you.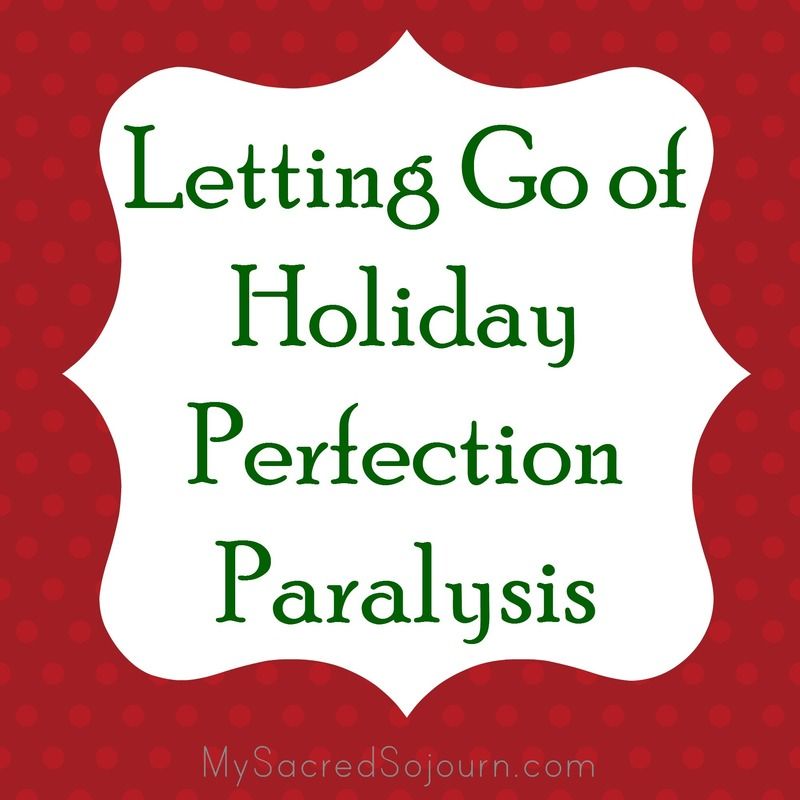 I've written a bit about perfection (
here
and
here
) and how dangerous it can be. But I was thinking more about it this weekend, as I prepared my heart for Advent and Christmas. There are a few traditions I've seen through the years that I haven't started with my children yet. One of those is the
Jesse Tree
. I think it's such a lovely idea. Why haven't I done it yet? Because I forgot about it after Christmas last year. And when I remembered in November, I found myself thinking, "It's too late to work on it now. By the time I finish the ornaments, we'll be halfway through December and what's the point?"
But you know what that is? That's Perfectionism talking. And Perfectionism tells us lies, lies like, "If you can't do it perfectly, you shouldn't even start." Lies like, "If you can't do it perfectly, it's okay to just give up and quit." Perfectionism gives us an "out" from even attempting new things, and if we do start, it gives us another "out" to quit when it gets hard.
How is Perfectionism playing out in my head about the Jesse Tree? Well, I've been thinking that each ornament must be hand-crafted by me! And I thought that if I can't start it on December 1, then why bother? But those are lies. It is perfectly acceptable (and realistic!) for me to print pictures for the ornaments or to buy them instead. And it doesn't matter if we can't begin on December 1. It's okay if we need to start on December 5th, or 9th, or 12th for that matter. What matters is that we start.
Here are my top tips for letting go of Perfectionism this season: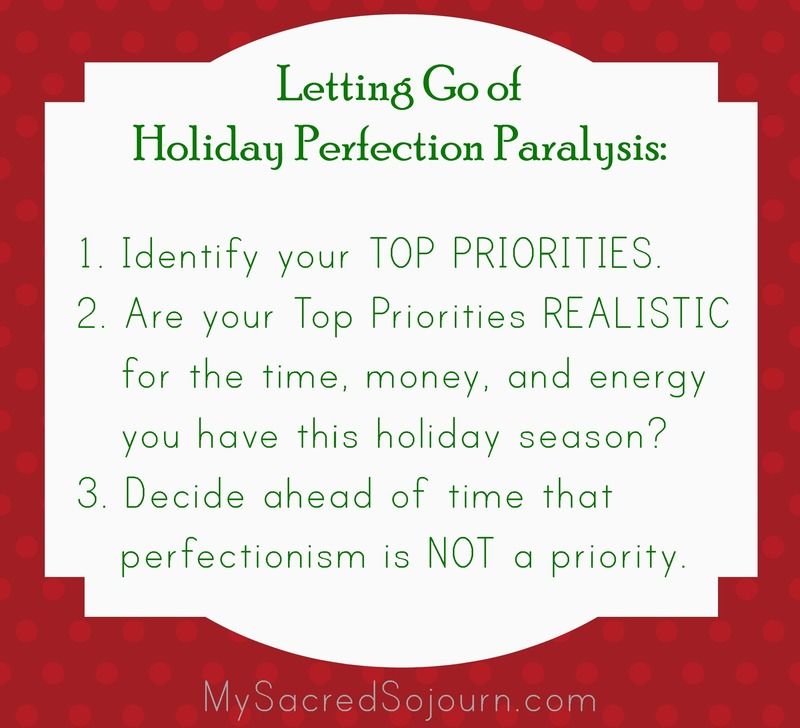 1) Identify your TOP PRIORITIES for the Christmas season. Is it quality time with family? A beautifully decorated home? To give home baked goods as gifts? Time set aside for service to the less fortunate? To start a certain tradition or simplify an existing one? Identify what's MOST important to you.
2) Are your Top Priorities REALISTIC for the amount of time, money, and energy you have this season? If not, spend some re-evaluating why you want those things. Is it because YOU want them or because you THINK someone else wants them? Have conversations with the people you love and decide together what's most important and realistic. You might be surprised at what your family truly values. That's why these conversations and negotiations are so important! If those things truly are Top Priorities, what do you need to set aside this season in order to accomplish them? Or who can you involve in the process and delegate responsibilities to so that those Top Priorities are met?
3) Decide ahead of time that Perfectionism is NOT a priority. Let's say your Top Priority is to spend time with your kids making cookies. Does it really matter if the dough is homemade or if the sprinkles are perfectly placed? Accept that there will be mis-steps along the way and choose ahead of time to enjoy the process, not just the results. Filter everything through the lens of those Top Priorities so that you have an authentic and realistic way to measure "success."
Whatever your plans are for this Advent and Christmas season, make yourself a promise this year. A promise that you won't let Perfectionism taint this beautiful, sacred time. A promise that you'll spend your time and energy on what matters to you and not on creating some false illusion of perfection. A promise that you'll enter fully into the beauty of this season and enjoy the process and time you have with the people you love.
So, tell us...what are your Top Priorities this season? How can you let go of perfection in order to fully enjoy this time?
Blessings,
April