Well, that was unexpected. I didn't plan to write the anxiety series and then just bail on you guys. But head colds and blogging are like oil and water, y'all. I had planned to write a series about gratitude in November, but I'm sitting here and it's November 23 and I'm thinking, "Wha???? Where did the last 3 weeks go?!" But then I look through the pictures on my phone and camera and remember that this has been a beautiful month. Here's what we've been up to at the My Sacred Sojourn home:
~ ~ ~ ~ ~ ~ ~

I made journals for my book club gals. This group has been just what I needed...we've been (trying to) meet once a week to discuss a book we're reading together (in November it was One Thousand Gifts by Ann Voskamp. In December, we're doing an Advent exploration.) We all have children, so sometimes it's crazy, but it's so good to get together with other Godly women for encouragement and support.
Just a note: If you feel that you need more support or connection, create what you need. Stop waiting for others to reach out to you, or for the church to create the group or ministry you need. Chances are, those women are waiting for someone else to do it. Go after it. Invite others over to your home (it doesn't have to be perfect!) Or meet at a coffee shop or Chick-fil-A or whatever works for your group of gals. Just do it. You won't be sorry.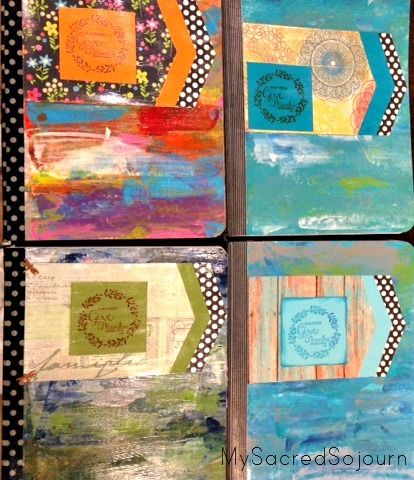 We visited a nearby nature center and we all adored it. It was a gorgeous day and such a peaceful place. We'll definitely go again. There were so many things that I loved about this piece of land and how the groundskeepers and employees have created little "nooks" all throughout for learning, contemplation, and exploration.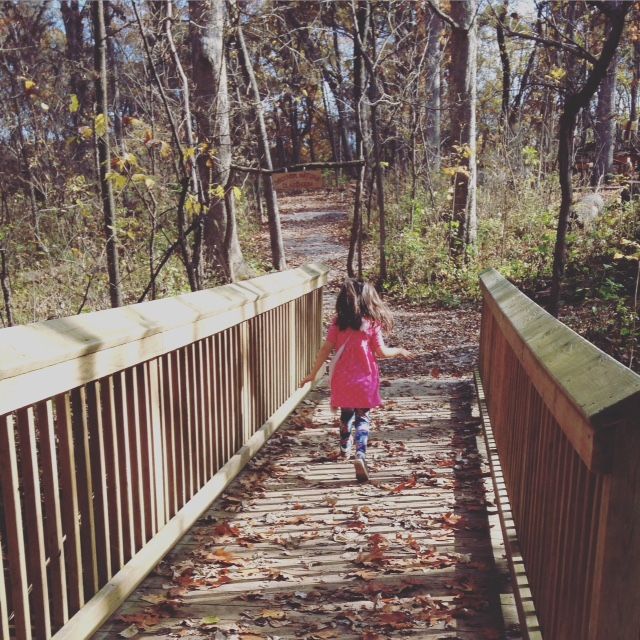 I've been crafting up a storm. My husband bought me a huge package of embroidery floss and I've been putting it to use making beautiful finger labyrinth lap pillows. This is my first one filled with beans. The second one I stuffed with rice and dried lavender and it smells like heaven. We've put one in our peace corner and the other has been purchased. (If you want one, leave a comment with your email address and we can work out the details. You may choose your felt

and thread colors.)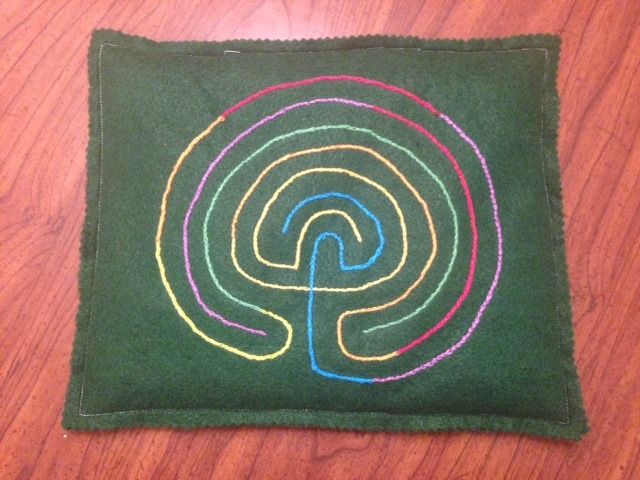 Miss A (age 5) and I learned to finger knit! I've wanted to learn to crochet or knit for the longest time, but couldn't seem to get it. Finger knitting was the answer! Right now I'm just finger knitting long sections (either 2 or 4 finger) and we plan to weave it all into a small rug for our peace corner. We also plan to purchase some knitting looms so we can make hats and scarves.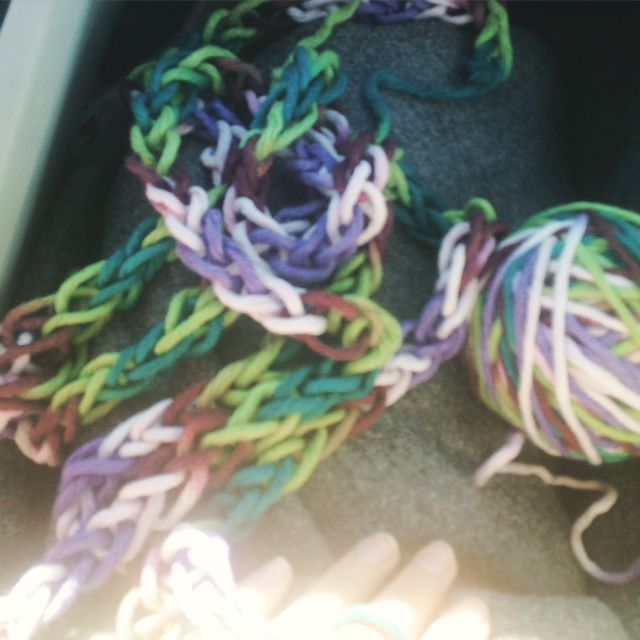 Our heater stopped working the first weekend that it got *really* cold. Of course. I was so grateful to have a fireplace, a stack of fire wood, and plenty of pine cone fire starters the girls and I made together (pine cones dipped in melted wax from leftover candle bits.) And honestly, there was something so homey and comforting about having a fire burning constantly for a few days.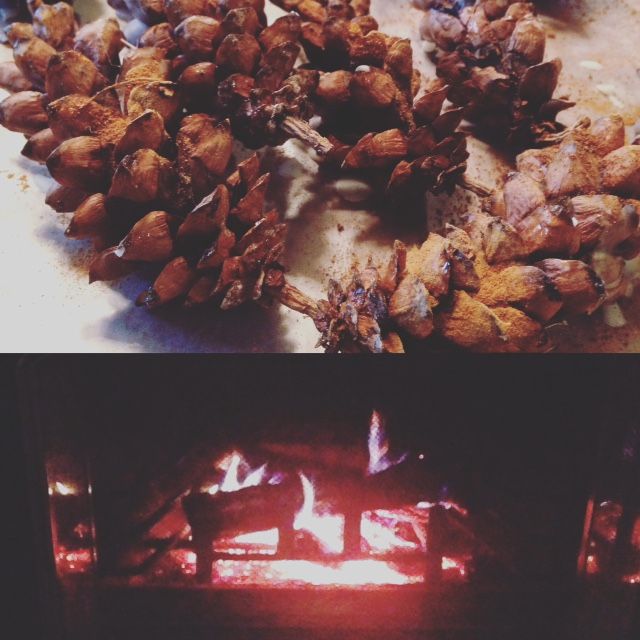 Advent begins Sunday, November 29 this year. I discovered this treasure about 5 years ago and have been very slowly increasing my understanding of this season and creating traditions for our family. Last week, I gathered some felt from our craft room, a few sprigs of craft store berries and a thrift store candle ring to construct our own Advent wreath. I'm looking forward to using this in our observance this year.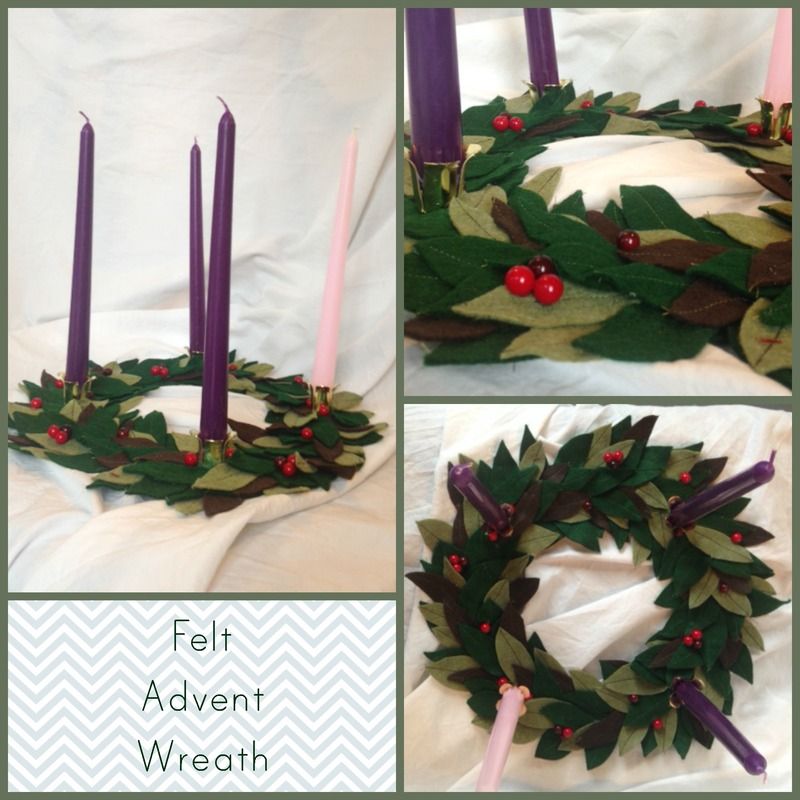 So, that was our November...crafting, snuggling together, loving one another. What a beautiful month! What have you been up to lately?
Blessings,
April