Last time I shared about how to avoid
Holiday Perfection Paralysis
. If the thought of needing to create a perfect holiday is stressing you (and your family) out, check it out! In that post, I talked about choosing your Top Priorities for the season. Knowing what's most important to you and your family will enable to you to gauge success and make wise choices. So, today I thought I'd share my Top Priorities for this season.
1. Make it meaningful.
This year, we're making it meaningful by observing Advent as a family. On the nights that we have a slow dinner at the family dinner table (and aren't headed out the door to our church small group, or whatever), we light the Advent candles on my
handmade felt Advent wreath
. My 5-year old had the idea to add a smaller candle for each family member that we light after saying something we are grateful for that day.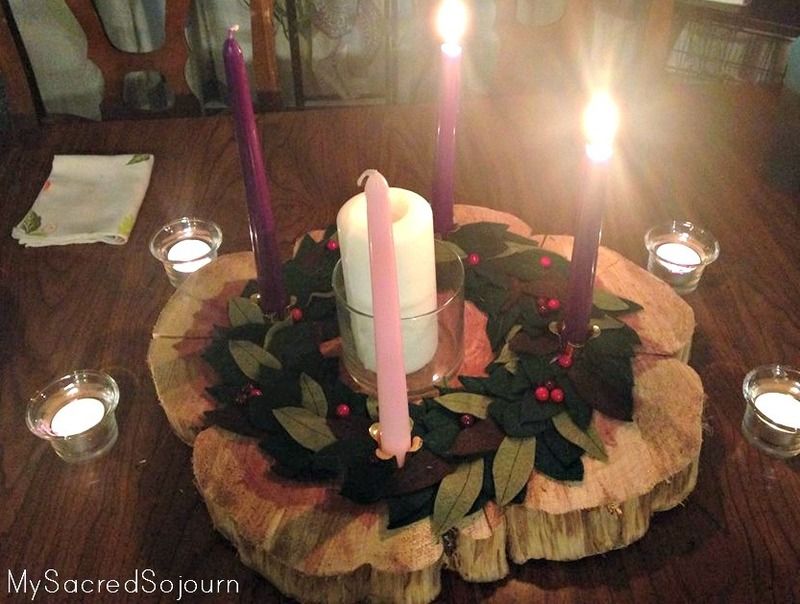 This year, we've been using a few different resources for readings. (These are NOT affiliate links.) The first is A Family Advent. I found this book at my local Mardel store a few years ago for just $4.99. It's a very simple book with activities and/or readings each day through Advent. We don't use it everyday, but we have enjoyed looking at it together.
The second most used resource this year is Jerusalem Greer's book
A Homemade Year
. I cannnot recommend this book enough. It's beautifully written and the photographs are so joyful and lovely. Setting our Advent wreath atop a cedar plank was an idea I drew from her book and we've used her Advent readings each Sunday so far.
2. Make it responsible/handmade.
This year I've had it in my heart to really simplify our gift-giving. We say this Every. Single. Year. But this year we are following through with that commitment! ;) Our children are still receiving several gifts from us, but most are handmade, some are thrifted, some were purchased at a consignment sale. It's not necessarily that we don't have the $$ to spend on lots of brand new gifts, we're simply convinced we can give our children a fun, magical, beautiful, meaningful Christmas, without spending a fortune.

Disclaimer: I'm naturally crafty AND a stay-at-home Mom, so I have the time and inclination to do this. This isn't an indictment if crafting isn't your thing. These are MY Top Priorities for this year, they don't have to be yours too. ;)
3. Make it enjoyable.
One of the ways I've made this season more enjoyable for me is to simplify my Christmas decorating and spread it out over a few weeks. There is still a Rubbermaid tote full of stuff I don't plan to unpack. And I'm okay with that. The house is adequately festive and not overwhelming with too much holiday clutter.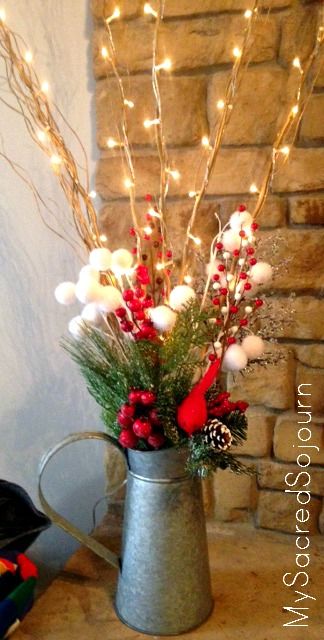 We let our daughters (ages 3 and 5) decorate this little 4-foot tree in our family room all by themselves. And they LOVED it! This will probably become an annual tradition. They took so much joy in cramming as many ornaments on that little tree as they could. It's over-decorated, slightly leaning and makes my eye twitch. But I can't deny that they found so much joy in that task. And that's one of my Top Priorities this year, so SUCCESS! :)

And this is the tree I decorated in our front room. I love this tree so much. It makes my heart happy and I loved crafting ornaments and garlands, and putting it all together. I will show you more details of our holiday decorating in a later post.
Another way we're making it enjoyable is by letting go of some traditions that no longer serve our family well. We all discussed it (this is key!) and agreed that we didn't care about having a big "Christmas dinner" similar to the meal served at Thanksgiving. So what are we doing? We plan to have a delicious brunch, followed by a soup bar later in the evening. This will give all of us time to spend with the people we love most, and no one will be stuck in the kitchen for hours.
Family Bake Day: A beautiful tradition that ultimately had to be updated to fit our growing family!
As life changes, it's important that our traditions evolve to embrace those changes. If it doesn't make sense to buy everyone Christmas PJs, or to eat a certain type of cookie
IT IS OKAY to let it go and find new, meaningful traditions.
Don't feel pressured to maintain the status quo if it no longer serves your family in the way it needs to.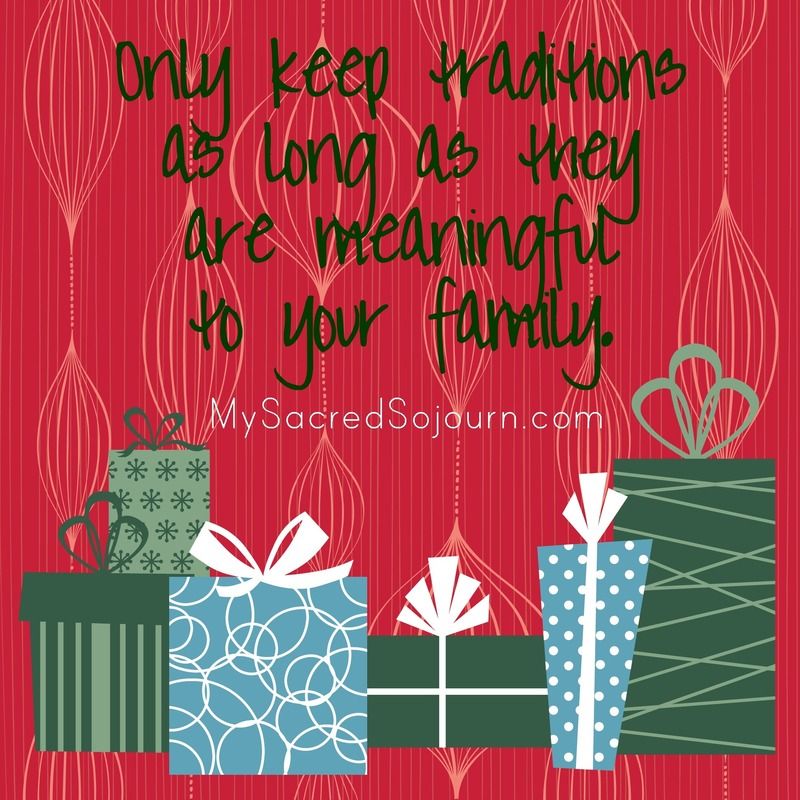 So, those are our family's Top Priorities for this Christmas season. What are the things that are most important to you? Do you have some traditions that need updating?
Blessings,
April