Sheesh, been awhile since I posted here! I apologize for my delayed absence. Since our move back to Oklahoma, we've been trying to get settled, get our feet under us, and develop some plans for moving forward. I shared here that our plan was to build a tiny house. That is still the plan so we've been working on finalizing a floor plan and figuring out WHEN to begin this enormous task. (Funny how a TINY house is such a BIG project!) ;)
Before we start on our Tiny Home though, we're creating our homeschool room/art studio. Since we're living with my parents while we build our tiny home, we don't really have room to do school in the main house. However, there's this outbuilding that is hideous has loads of potential. ;) When my parents bought this property, my teenage brothers adopted this building as their hang out/jam session space and nicknamed it "The Shack." That name has stuck all these years, and no matter how hard I try to stop, I keep calling it that! So, consider this your introduction to "The Shack."
This is the outside of The Shack. Once we finish, I hope it has more of a cottage feel vs. dirty garden shed. I would love to paint the exterior, but realistically, that probably won't happen until at least the spring, maybe later.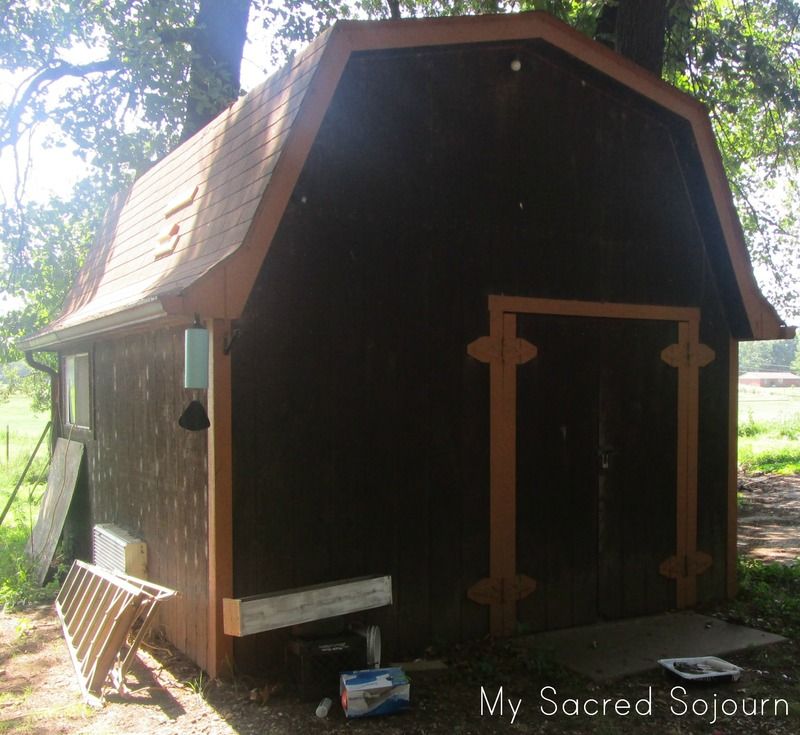 And this is the inside...oh my, where do I begin? In just a few months time, this dark, dingy shed will be a bright, soothing space for learning and creating. What's the matter, you don't believe me? Well, some days I find it hard to believe myself. ;)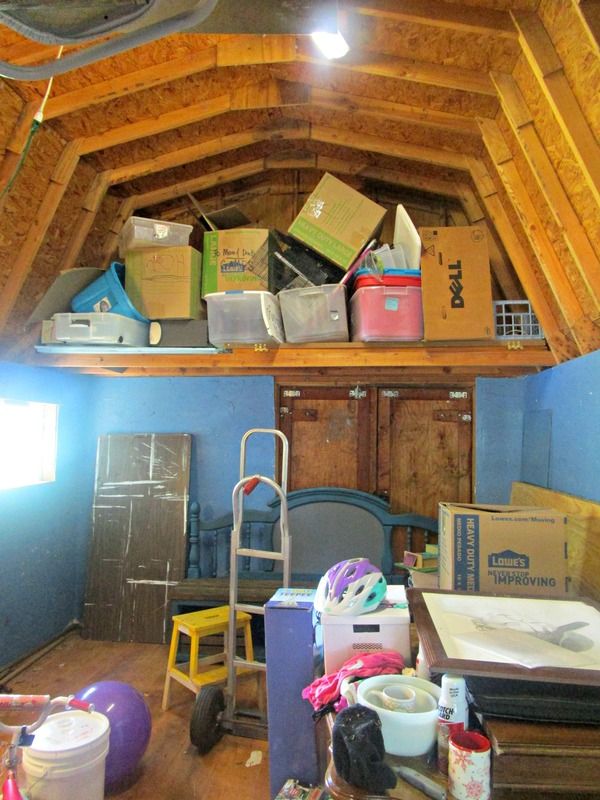 What a mess! So much stuff that needs to be discarded, re-homed, o reorganized! Eventually we're going to insulate and sheetrock the ceiling, but for now the plan is to use paint to brighten it all up.On the bright side, it's a decent size. It measures approximately 11x15 inside, about 165 square feet! So that's lots of room to create a reading area, have storage for supplies, and a table for working.
Here's our giant To-Do List:
Repair the roof...bad storm sent a limb through the roof. We have all the stuff, but someone (NOT ME) has to climb up there and repair it. ;)


Have A/C checked and have repaired, if necessary
Remove old flooring, and install new
Paint the walls and ceiling (What color, what color??? Oh, the decisions!)
Install the feature wall (I'm so excited about this idea, but I'm not sharing what the plan is until it's done! Yea for surprises!!)
Source materials-- This is a big one. We're going to try to use as much salvaged/recycled material as possible, so that could take some time.
Install new lighting
Install new front door
Sew cushions and pillows for our reading bench
Paint or stain the table and chairs (Decisions, decisions...)
Build/find shelves/storage solutions
Sew curtains
Find a rug
Install porch roof and light (Maybe...I want to, but we might run out of time and money before we need to start on the Tiny Home.)
So, that's it...huge list!!! Some of it I can do myself, but most of it, I can't do alone or at all. But I'm hoping this project will be a good primer and I'll learn a lot so I can be a better assistant when we start on the house. ;)
I'm planning to keep you updated as we move through this project...I am even considering filming some videos of the process. This week we'll start sourcing materials and if we can get our hands on a paint sprayer (still trying to decide if we should buy or rent one), we'll begin painting!
Blessings,
April